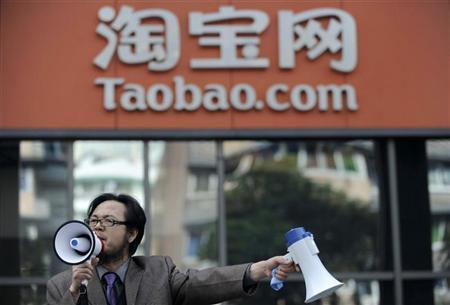 Late last week, digital payments company Paytm held a press conference in New Delhi.
Its chairman and managing director, Vijay Shekhar Sharma, chose the occasion to announce several new initiatives.
Somewhere in the middle of the rather passionate discourse, a journalist asked him if Paytm wanted to become the TaoBao of India. Sharma quickly responded, "We want to be the Paytm of India."
But even a cursory glance at the strategy deployed by TaoBao will reveal that Paytm is modelling its foray into digital commerce exactly along the lines adopted by China's largest e-commerce site.
The similarity of strategy doesn't come as a surprise since the parent of Paytm, Noida-based One97 Communications, is 25 per cent owned by Ant Financial, an affiliate of Chinese e-commerce giant Alibaba, which owns Taobao.
Game plan
But despite the lineage, the question remains: will Paytm be able to replicate the incredible success of TaoBao?
Alibaba launched the e-commerce site in 2003 to counter the foothold that American ecommerce giant eBay had gained in the Chinese market through its acquisition of Eachnet, which dominated the online auction market at that time.
TaoBao had a dream run. According to a September 2006 article in The Economist titled "China's pied piper", TaoBao's market share in the Chinese e-commerce space jumped from 8 per cent to 59 per cent between 2003 and 2005, while eBay's slid from 79 per cent to 36 per cent.
By December 2006, eBay had started showing signs of a retreat from the Chinese market, finally exiting the following year.
According to Sharma, Paytm will have a mobile application-based marketplace where small and medium businesses will be able to transact directly with the customers.
Paytm will not charge any commission from the merchants for selling their products. Since the application is only mobile-based, it will allow users to chat and even "negotiate" with the sellers.
Since Paytm is primarily a digital payments company, it will give buyers the option to store their funds in an escrow account from which money will be released after the goods have been delivered.
Sharma aims to increase the number of merchants on Paytm from 33,000 to 100,000 by the end of the year, and the number of stock-keeping units from 8.5 million currently to 100 million.
He is targetting revenues of $4 billion by end of 2015, with half of it coming from mobile commerce.
Same difference
This is a carbon copy of the TaoBao model. Jack Ma-led Alibaba managed to elbow eBay out of China due to a strategy in which the number of merchants on its site remained unrivalled.
The zero commission made it possible for the smallest of vendors to sell its wares on the site, the interpersonal touch provided by the chat option and the ease of payments through the escrow account gave confidence to more people to shop.
The 2006 article said, "In contrast with eBay's relative anonymity, TaoBao lets buyers and sellers get chummy through messaging and voicemail, and by posting photographs and personal details on the site.
Turning e-commerce into a community of "friends" has been critical in a country beset by a lack of trust.
The similarities between the demographics and market dynamics that governed China around the time of TaoBao's launch and between the India of 2015 are stark.
Therefore, on the face of it, there seems to be a solid case for a launch of a TaoBao-like model in India.
According to ChinaInternetNetworkInformationCenter, in the period from 2001 to 2007, the number of Internet users in China climbed dramatically from about 34 million to 210 million.
India's Internet population too has boomed over the last five years to around 300 million.
Like China's at that time, over half of India's population is under 30 years and most of the country doesn't have access to credit cards.
However, the similarities end there. The Indian e-commerce market in 2015 already has home-grown giants like Flipkart and Snapdeal along with American major Amazon.
These have gained a huge foothold in the Indian market and have strong brand recall.
These companies have already invested millions of dollars into building the supply chain, back-end logistics and customer support.
And just offering zero commission may not be enough to cause a shift of vendors to Paytm's platform.
Also if Paytm wants to build itself into a strong contender to the behemoths in the industry, it will have to build strong backend logistics to facilitate fast and smooth delivery for minimal consumer complaints.
The fact that Paytm is a mobile-only platform could give it an edge since already a significant percentage of traffic for existing e-commerce companies is coming through the small screen.
Also, the number of mobile Internet users is expected to swell up to 480 million by 2017.
However, the benefit of payment through an escrow account may not be as crucial as expected since India's payment constraints have led to the popularity of the cash-on-delivery model with almost half of all transactions depending on this mode of payment.
Deep discounts offered by these sites may be another disadvantage for Paytm.
However, Sharma makes little of this issue as he feels that the discount strategy only works for branded goods.
"The Paytm app will not be restricted to electronic items and you will be able to find anything and everything there. And discounts only work when there is a comparison to be made," says Sharma who believes that a significant chunk of what is being sold online is electronics.
He explains that since many small and medium enterprises will list their products there, a comparison will be hard to find.
The road ahead
Since Paytm is just embarking on building a TaoBao like entity in India, it may want to address a challenge that the latter faced a few years after its launch.
"Although TaoBao had emerged as the clear leader in China's online consumer-to-consumer space, it was under constant pressure to generate revenue. In May 2006, shortly after its promise to offer all services free for three more years, TaoBao made its first try at a fee-based service," wrote William P Barnett, professor at StanfordUniversity in a 2010 paper titled "TaoBao versus eBay China".
After three years' free service, the new product soon became a PR disaster and had to be discontinued.
Sharma has an answer to this. He points out that Paytm charges its merchants a fee of 2.5 per cent to transfer money earned from sales to their bank accounts.
"We don't need anything more," says Sharma. "This is more than enough to sustain us." He then turns towards the screen that has the company's latest motto written on it: "Go Big or Go Home".