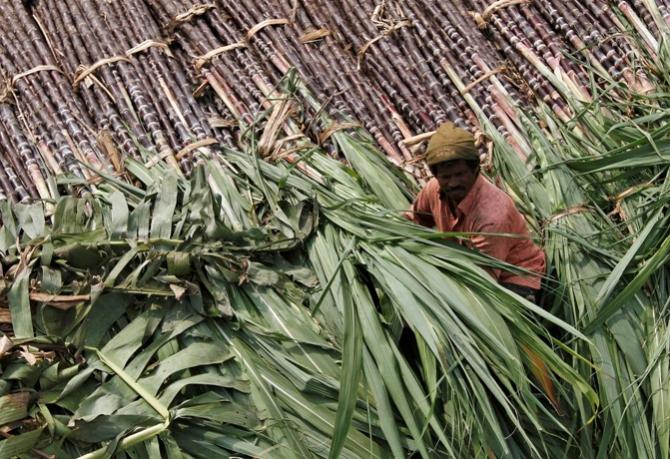 Days after the Bharatiya Janata Party lost by-election in sugarcane belt of Uttar Pradesh, the Centre on Wednesday announced a Rs 8,500 crore package to boost farmers' income by creating a buffer stock for sugar, enhancing ethanol production capacity and fixing a minimum selling price to cut mill losses.
The cabinet, headed by Prime Minister Narendra Modi, approved Rs 4,440 crore soft loan for building ethanol production capacity to absorb the cane and a buffer stock of 3 million tonnes, besides for the first time fixing Rs 29 per kg as the minimum price below which mills cannot sell sweetener.
These decisions are aimed at helping mills in clearing part of over Rs 22,000-crore arrears to cane farmers.
Sugar mills are incurring losses as prices have fallen below production cost on account of record output of 31.5 million tonnes in the 2017-18 season ending September as against the annual domestic demand of 25 million tonnes.
The bailout package has been announced days after the BJP lost Lok Sabha by-poll of Kairana constituency in Uttar Pradesh, the country's largest sugar producing state.
Announcing the Cabinet decision, Food Minister Ram Vilas Paswan said the government has decided to create a buffer stock of 3 million tonnes for one year, which will result in a Rs 1,175 crore burden on the Centre in form of storage cost to mills.
The carrying cost will be paid on a quarterly basis which would be directly credited into farmers' account on behalf of mills against their cane dues.
The creation of buffer stock would help soak up excess supplies and boost sliding domestic prices.
"Mills are selling sugar at Rs 26-28 per kg as against the average production cost of Rs 32 per kg," Paswan said, adding that exports are also not viable as global prices are lower than rates prevailing in India.
On soft loans to mills for ethanol, the minister said the government will bear interest subvention of Rs 1,332 crore over a period of five years including moratorium period of one year.
Stating that the farmers cannot be stopped to produce cane, the minister said the additional ethanol production capacity would help diversion of cane during surplus season.
Ethanol extracted from sugarcane will be used for blending in petrol and will provide cane farmers remunerative price for their crop. Ethanol doping in petrol will also help the country cut its oil imports.
Paswan said the government had last month announced production-linked subsidy of Rs 1,540 crore for sugarcane farmers, taking the total package to about Rs 8,500 crore.
"The government is concerned about farmers' welfare," the minister said, adding that the Centre is helping mills cut losses and enable them to clear dues to farmers.
That apart, the minister said the minimum selling price of white/refined sugar has been fixed at Rs 29 per kg.
The government has notified Sugar Price (Control) Order, 2018 under Essential Commodities Act, 1955 to fix minimum selling price .
Asked whether this move will lead to rise in retail prices, Paswan said the government always maintains balance between interests of farmers and consumers.
'This will not affect availability of sugar to consumers at reasonable price and government will put in place a mechanism to ensure that the retail prices of sugar are kept fully under control,' an official statement said.
At present, this would be done along with imposition of stock holding limits on sugar mills. The stock limit on mills will be initially imposed for the current sugar season (up to September 2018), it added.
Earlier this year, the Centre had doubled sugar import duty to 100 per cent and scrapped export duty to check sliding domestic prices. It has also asked mills to export 2 million tonnes of sugar.
India is the world's second largest producer of sugar after Brazil.