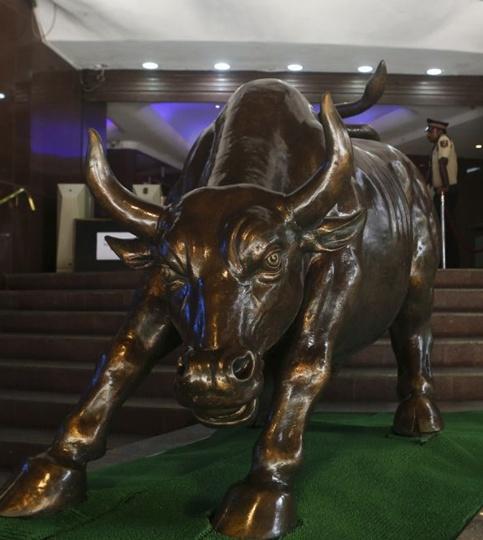 Dalal Street will give a thumbs up to the Bharatiya Janata Party (BJP)'s good showing in the state elections and the government's ending of formal price control on diesel and raising of natural gas prices.
Growing expectations that monetary policy tightening will be delayed in the US and Britain will help calm investor nerves, after a turbulent week for the financial markets.
The benchmark indices had ended in losses for a fourth straight week on Friday, as investors turned risk-averse on global growth concerns and fear of the US bond-buying programme ending this month.
The Sensex had closed at 26,108 and the Nifty at 7,779, off a little over four per cent from their all-time highs of early September.
The BJP victory in the Maharashtra and Haryana elections and its pushing ahead with economic reforms will bolster the markets, say analysts. The government on Saturday ended the price control on diesel, raised natural gas prices and had two days earlier announced labour market reforms.
"The government is now expected to push ahead with a reform agenda," said Raamdeo Agrawal, joint managing director, Motilal Oswal Financial Services. Saurabh Mukherjea, chief executive officer, institutional equities, Ambit Capital, said: "The elections are out of the way. We now expect a plethora of policy announcements. The next two weeks will be exciting."
The market is also expected to react to corporate earnings announcements for the September quarter, with Housing Development Finance Corporation, Wipro and Mahindra & Mahindra being some major companies likely to announce their numbers. The recent drop in oil and other commodities' prices is expected to help the economy in the coming quarters. Global crude oil prices had dropped below $83 a barrel last week.
It will be a truncated week for the market, with Thursday and Friday being holidays for Diwali (though there will be an opening for 75 minutes on Friday, the traditional Muhurat trading).
Turmoil in the global markets, if it persists, will keep the gains in check at the Indian market. The VIX index, a barometer for risk, has shot up 40 per cent in the past month. Most investors have turned cautious due to such high volatility.
Also, foreign investors have pulled out a little more than $1 billion from Indian stock markets since the US Federal Reserve meeting on September 16, when it didn't alter its stance on quantitative easing (QE). Robust buying by domestic institutional investors has come to the rescue of the Indian market, which has not seen a correction as sharp as some of the other major global markets did in recent weeks.
Nirmal Rungta, director and head, private client group, CIMB Securities, said: "People are cautiously optimistic and see the bull run continuing, with a 'buy on dips' strategy. Investors are taking comfort from the fact that there is some movement in Delhi. Suddenly, there are decisions being taken, policy changes being made and it looks like things are getting a bit aggressive."
However, recent weakness in the global markets has raised expectations that the US central bank might have to continue with its stimulus programme. Shane Oliver, head of investment strategy and chief economist at AMP Capital, said: "The Fed might delay ending QE and rate hikes. Various Fed officials have added to the message that it will allow for the impact of softer global growth and the stronger dollar, and that this might result in a delay to rate hikes. I suspect they might now get pushed into the September quarter next year."
THIS WAY OR THAT?
Favouring the bull
BJP's good show in state elections
Government's push for economic reforms
Drop in oil & other commodities' prices
Delay in end of stimulus programmes
Strong buying by domestic investors
Favouring the bears
Financial turmoil in global markets
Weak economic growth, spread of Ebola virus
End of US bond-buying programme
Selling by FIIs
Disappointment in earnings