Finance Minister Pranab Mukherjee's visit to Dhaka has once again pumped up the strength of ties between the two neighbours, India and Bangladesh.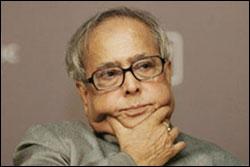 Mukherjee announced in Dhaka on May 6 that India will write off $200 million from the $1 billion credit line that India has provided to Bangladesh for various projects related to communication, around a year back.
Mukherjee said this to editors of various newspapers in Bangladesh on Sunday afternoon, during the last day of his 20-hour trip to Bangladesh.
A number of news sites in Bangladesh quoted Mukherjee as saying, "India will treat the amount as grant, not credit."  Not only that, on the remaining loan of $800 million there will be a one per cent interest, instead of an earlier 2.75 per cent. The Indian FM added that Bangladesh can utilize the $200 million for "projects that Bangladesh prioritizes."
Bdnews24.com reported that while answering a question from Moazzem Hossain, editor of The Financial Express in Bangladesh, Mukherjee said that New Delhi has already relaxed the rules of origin (ROO) criteria for the projects and would consider more flexible terms. 

On the other issues, the Indian minister blamed "ground realities" like lack of majority of ruling party toward the failure of finally signing the Teesta water sharing deal. While referring to the situation as "sensitive", Mukherjee added, "In a democracy such as ours…this process often becomes time consuming". He mentioned that there are still "certain issues that need to be resolved".
Prior to Mukherjee landing in Dhaka on Saturday night, a number of dailies in Bangladesh wrote about the delays in delivering on promises by India. Daily Star, the most circulated English daily in Bangladesh wrote a report, titled '$1 b loan from India: Little to cheer about' where they mentioned on how "Delhi's tardy bureaucracy" and "Dhaka's inefficiency" have delayed the channelling of funds to the various projects in Bangladesh.
On such allegations, Mukherjee pointed out that various projects worth $820 million have already been identified and that five contracts worth $214 million had already been signed.  He reminded that buses have been delivered and coaches and locomotives would also be sent soon. He also spoke about the 1,320 MW power plant being built and the 500 MW generating power that India would be selling to Bangladesh.
He also assured that a sub-group would look into "all aspects" of the controversial Tipaimukh project and reiterated that India would take "no unilateral action that would harm Bangladesh". 
Later, on his way to the airport Mukherjee also dropped by the office of Khaleda Zia, chairperson of the opposition Bangladesh Nationalist Party (BNP) that leads the 18-party alliance. Mukherjee assured her that India is yet to start constructing the Tipaimukh dam on the Barak River. Zia also urged Mukherjee to conduct a "non-partisan" joint survey of the project.

Mukherjee had arrived in Bangladesh to attend the concluding ceremonies of a year-long programme marking the 150th birth anniversary of Rabindranath Tagore in Dhaka. The anniversary is being jointly organized in Bangladesh and India. "The manner in which our countries have marked this anniversary is an example," Mukherjee was quoted as saying by Bdnews24.com. 
The joint celebrations were planned in January 2010 when Bangladesh's Prime Minister Sheikh Hasina had visited India.

A concluding ceremony for the Indian part of the series of events will take place in New Delhi on May 7, where Bangladesh Foreign Minister Dipu Moni will be present as chief guest. Moni is also expected to meet Indian water resources minister Pawan Kumar Bansal to discuss ways to end the Teesta river conflict by signing a deal on water sharing. 
Also, on May 5, IANS reported that work on a 200-metre bridge over the river Feni in Tripura will soon begin thus making Bangladesh's Chittagong sea port accessible to Northeast India.
"Engineers of India and Bangladesh will carry out field level technical surveys from May 10 before starting the actual work," Tripura Commerce and Industries Minister Jitendra Chaudhury  was quoted by IANS as saying on May 5.
He said: "If the central government rejects the Tripura government's proposal to give the required Rs 40 crore (Rs 400 million) to construct the bridge, the state government would bear the cost…For the bridge to be at par with international standards, the centre has the scope to provide funds."
The proposed bridge would connect southern Tripura's border town Sabroom, 135 km south of Agartala, with the Bangladeshi border town Ramgarh, 300 km northeast of Dhaka.
The bridge will be of importance to northeast India at ferrying heavy machinery and good from Bangladesh, which has agreed to allow India to use its Chittagong, Mongla and Ashuganj ports.
The Chittagong port is the principal seaport of Bangladesh handling about 92 per cent of the country's imports and exports.
The bridge will also be of importance to South Asian countries like Myanmar, Bhutan and China, as the Northeast Frontier Railway (NFR) has initiated work to extend its railway network up to the border town of Sabroom, expected to be completed by 2014.