Experts attribute this to new launches in anticipation of a demand revival after the 2014 general elections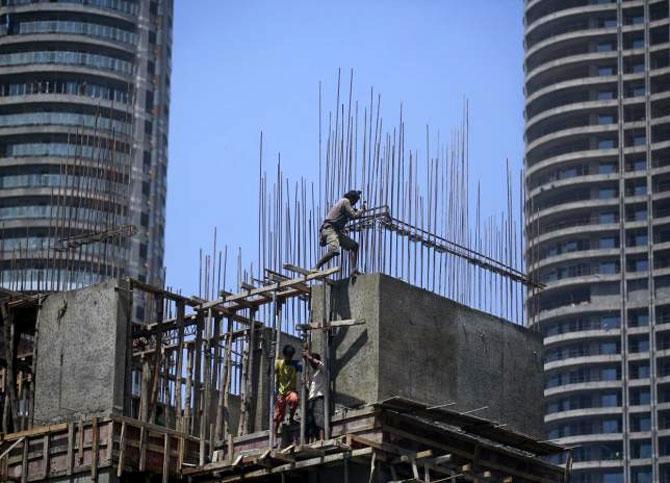 The country's top listed real estate companies reported nearly Rs 70,000 crore (Rs 700 billion) in unsold inventory in March, up from around Rs 64,000 crore (Rs 640 billion) a year ago. The inventory is worth nearly 30 months of their combined net sales in 2014-15, a small rise from the ratio a year ago.
The companies reported combined net sales of Rs 28,026 crore (Rs 280.26 billion) in 2014-15, up 7.5 per cent from a year ago. The growth in inventory was faster at 8.8 per cent. (See chart)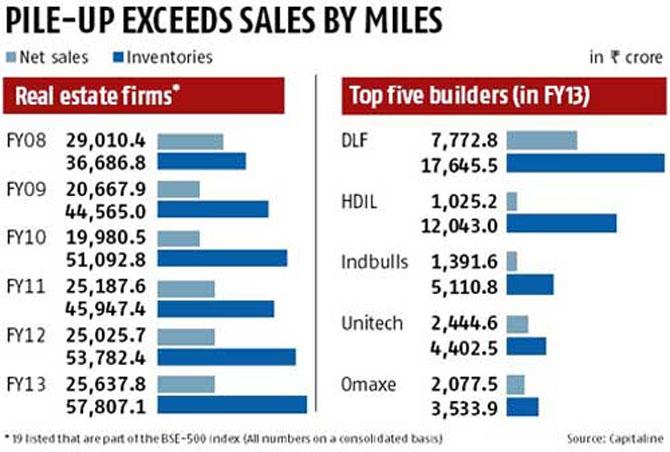 The unsold inventory will cross Rs 82,000 crore (Rs 820 billion) if Indiabulls Real Estate and Jaypee Infratech are added to the list of companies. Their figures have not been available for the last 10 years.
This may force builders to book inventory losses if home prices begin to fall. In a report last week, Ambit Capital predicted as much as a 50 per cent fall in home prices in Mumbai while real estate consultancy Liases Foras forecast a 20-25 per cent fall in prices over the next two years.
The analysis is based on figures for 17 real estate developers which are part of the BSE-500 index and a few others. The list includes DLF, Unitech, Sobha Developers, HDIL, Prestige Estates, Godrej Properties, Kolte-Patil Developers, Phoenix Mills, Oberoi Realty and Ansal Properties.
The inventory includes both finished apartments and office buildings and projects under construction.
DLF reported the largest inventory worth Rs 17,743 crore in March, down 4.1 per cent from a year ago. It was followed by HDIL (Rs 13,079 crore) and Godrej Properties (Rs 4727.1 crore). Mid-size real estate developers reported a faster growth in inventory than bigger developers. (See table)
This has begun to create cash flow problems for many developers. Oberoi Realty, Godrej Properties and Sobha Developers reported negative cash flows from operations in 2014-15. In 2013-14, only two of them had negative cash flows from operations.
Experts attribute this to new launches in anticipation of a demand revival after the 2014 general elections. "The demand growth did not come about, leading to a pile-up of unsold apartments and commercial properties," said Sanjay Dutt, executive managing director, Cushman & Wakefield in South Asia.
"Nearly Rs 20,000 crore (Rs 200 billion) worth of real estate assets, including homes and commercial property, have technically turned into non-performing assets and the near-term outlook looks challenging," he added.
Builders however deny this and say that most of the inventory reported in their balance sheet is unfinished projects. "Our model is build and sell and we just don't carry any finished inventory on our books. Almost the entire amount reported in our balance sheet represents various projects under construction. Apartments are handed over to the buyers as soon as the project receives occupancy certificate," says Rajendra Khetawat, CFO Godrej Properties."
Saurabh Mukherjea and Sumit Shekhar of Ambit Capital see a broad-based real estate pullback, with prices correcting in most Tier I and Tier II cities alongside sharp drops in transactions and new launches.
In Mumbai, their model predicts up to a 50 per cent fall in prices for the inventory to clear. "Mumbai has a gross rental yield of close to 2 per cent while the lending rate hovers around 10 per cent. Even if buyers are willing to live with only 5 per cent rental yield, this would imply halving of real estate prices in Mumbai," the Ambit Capital report said.
While few share this bearish view, most observers expect a further slide in property prices in most markets. "Prices have to fall to improve affordability and stimulate demand, but it will be spread out. We expect a 20-25 per cent fall in home prices over the next two years," said Pankaj Kapoor, managing director of Liases Foras.
According to him, the bulk of the price correction will occur as time correction--no price rise for a few years--because builders, banks and the government cannot afford a sudden and large fall in prices. "The authorities will not allow a sharp fall in prices owing to its impact on banks' balance sheets and the damage it can cause to home owners," he added.