Be it a doctor, a financial planner or a businessman, all have high hopes from the Modi government in the upcoming Budget.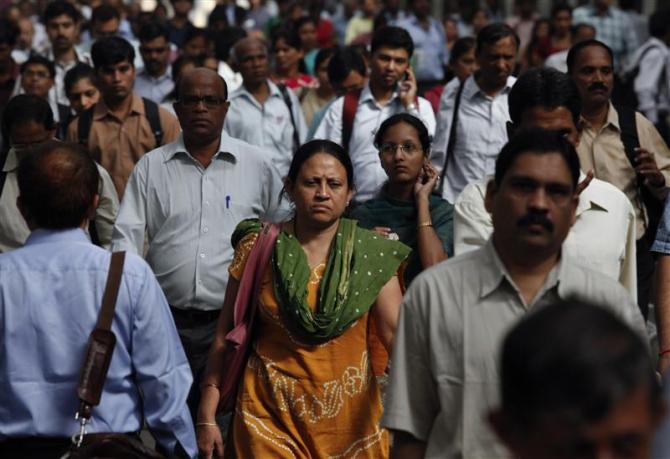 Image: The masses have high hopes from the upcoming Budget 2015. Photograph: Danish Siddiqui/Reuters
The 2015 Union Budget is going to be among the most eagerly awaited budgets in recent history as it is going to define the agenda and perhaps the future of the Narendra Modi government.
This budget could either mark India's advent into an era of renewed economic growth or would mark a downslide in popularity of the Modi government.
Though the 2014 budget was the first budget put out by Finance Minister Arun Jaitley, people realided that he only had 45 days to put out the document.
Budget 2015: Complete Coverage
This time, however, he has had all the time he needed and hence this would be the government's chance of putting all its ideas, showcased in the 2014 election campaign, to work here.
Rediff.com spoke with people from varied walks of life to know about the expectations from the Union Budget.
"The Union budgets have always been about interests of the upper income group and business class, so I am not expecting too much from the upcoming budget," says a non-chalant Vishal Jain, trader in Chandni Chowk.
He argues that the affluent business class "manipulates the government and the budget addresses their interests."
But he does go on to share his hope of raise in the income tax slab to a "realistic level so nobody needs to indulge in unnecessary activity of showing fake expenditure to cover real earnings. We need the slab to be raised to Rs 4-5 lakh from the current Rs 2 lakh.
That will ensure more people pay their taxes honestly."
There is a need for review of the overall income tax regime and a re-look at laws which have been effective since 1950, says Jain.
"There has been relief in the form of reduced crude oil prices as a result of global factors, but the government has not been able to go beyond to make much substantive positive changes so far," he adds.
Talking about his expectations from Prime Minister Narendra Modi on delivering a budget which will evoke hope, Jain says "Modi is just a hero, hyped up by the media.
While the jan dhan scheme took off, there hasn't been any real action post the opening up of accounts across the country and there is no action on the promise of recovering black money as well."
Amit Kukreja, financial adviser and consultant, says "there is clearly impatience though not disappointment yet which has set in over the slow pace of growth since the NDA government came into power last year."

Listing out the expectations, Amit says the limit for IT exemption under 80C needs to be raised from Rs 1.5 lakh to at least Rs 2 lakh apart from a rise in the exemption limit under 80D for medical insurance from Rs 13,000 to Rs 20,000 per annum.
Budget 2015: Complete Coverage
He also pointed that the income tax exemption limit for senior citizens needed to be raised from Rs 3 lakh to Rs 4 lakh and that no changes in the super senior citizen tax slab of Rs 5 lakh was required.
"I am expecting the government to announce some new launches for mopping up funds for infrastructure development, with tax incentives.
Also, there can be more financial thought for making housing affordable, with cheaper loans and higher IT exemption for under Rs 20 lakh loans," adds Kukreja.
There also needs to be focus on review on debt mutual funds policy which has not been accepted well by the markets or the government gives some boost to this in the upcoming budget, he adds.
"At a macro level, the government has set into motion some good initiatives last year but these would take time to show results at the micro level. The slashing of crude oil prices would mean the government has more funds, and now people want the results to start showing."
Kukreja insists that the recent poll debacle for BJP in Delhi assembly elections should not be seen as a overall mood of disenchantment with the NDA government. "Tt was a result of dejection of the Delhi voters with the continued state of stagnancy under the President's rule and the need to give AAP a chance to repeat its performance of 49-day rule in the city."
Kukreja is quick to add that "we expect the government can create an environment of investment and growth of small and medium enterprises and usher in a growth oriented budget."
A mid-level armed forces officer, who wished to remain anonymous, spoke of his expectations from the budget.
"I am in the 30% income tax slab and I hope there is a realistic raise in the rebate. It is the middle class families who suffer the most, with automobile, house EMIs, home rents, high public school and coaching fee and hopes of short budget holiday once in a couple of months."
"When the 6th Pay Commission came in with salary hike, many of us raised our expenditure, oblivious to the higher income tax we have to shell out, so it is a tight ropewalk for us," he says.
Not willing to give up on the government yet, he adds, "people are ready to give more time to Modi to make positive changes for the middle class.The budget also targets good such as AC and TV as luxury goods and airfare usually goes up, but these are necessities as people need to save time on travel. Hope these are exempted from price hike in the budget this time, we have to be realistic to the needs of people."
Deepika Joshi, a senior teacher at Khaitan Public School, Noida says "I hope the government is able to raise expenditure on the education sector, to focus on teacher salaries and improving quality of education."
Deepika is hopeful that the skill development and vocational training courses would also get more attention from the government to ensure the country is able to push ahead in creating skilled workforce for the future.
"I hope there is also focus on making the education loan policy more friendly, with raise in the concession for girls from the present .5% on interest on loans, to a higher concession level to encourage more girls to use these loans. Also the concession on loans needs to be applicable for all recognised colleges across the country," says Deepika.
There is a need for higher attention from the government on social protection measures for the poor, apart from raising exemptions on saving instruments like FDs, NSCs which are relevant to the middle class, says Deepika.
Dr Rakhi Singh, a senior gynaecologist consultant and IVF specialist, is quite bitter about what she describes as "unwarranted pressure and regulation for the medical fraternity."
She argues that the pharmaceutical industry should be leveraged by the government to allow investment in knowledge platforms and opportunities for skill upgradation for medical practitioners which can be balanced with reasonable level of regulations as well.
"Doctors have to spend more time than other professionals in higher education and practice, we take longer to settle down. We should not be expected to shell out money for attending knowledge sharing conferences or seminars. These need to be sponsored by pharma companies, but it should be done with some level of regulations," adds Dr Singh.
Sanjeeva Shivesh, CEO of The Entrepreneurship School, points that "post the Delhi elections, the government will have to muster a lot strength to bring in a reformist and economically forward looking budget. There needs to be thrust on infrastructure projects in transportation sector, healthcare assets, and facilitating easy entry of private partnership in building this."
Sanjeeva points that the government "needs to reverse the income tax regime which is working against small and medium enterprises, boosting their growth across the country.
Also last year, the skill and entrepreneurship development ministry which was introduced by PM saw an allocation of Rs 10,000 crore (Rs 100 billion), but not much work has been done by this ministry.
Another new initiative, the National Innovation Fund, for which Rs 10,000 crore were allocated, has also not shown much action on the ground."
Quite simply put, Sanjeeva says "it's time for the government to move out of the phase of policy announcements to policy detailing and we expect the government to be aggressive and go for growth with full force."