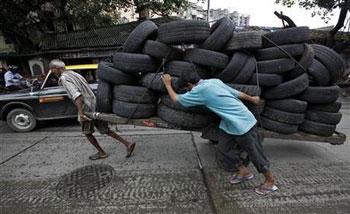 During 2013-14, tyre demand is estimated to have grown by a muted 1%, largely aided by two-wheelers and tractors, even as demand from LCV and PV segments fell. This follows a 2% de-growth witnessed by the industry during 2012-13 due to contraction in the high volume two wheeler and tractor segments.
The current turnover of the Indian tyre industry is around Rs 48,000 crore and 10 large tyre companies account for 95% of the company's turnover. Exports in terms of value stand at Rs 10,500 crore. In volume terms, production stands at 123 million tyres and exports stand at 8.4 million tyres. Imports stand at 8.9 million tyres.
Recent investments by Tyre Industry have been to the tune of over Rs. 26,000 crores in greenfield projects as also major expansions.
Revenues in the domestic tyre industry grew largely by the improvement in product mix, limited price discounting despite the falling input costs and higher realisations in the export markets (on a depreciated currency), even as volumes were languid. The softer input costs regime over the past one year has proved highly favourable for the industry with industry wide operating profit margins climbing to historic peaks. With the industry in the midst of a large capital expenditure phase, the benefits to the OPM have not directly trickled down to the net margins (NPM). However, the high cash accruals of the past two years have lent flexibility to the industry leading to a decline in industry wide leverage and substantial cash build up.
Budget 2015: Complete Coverage
Industry Expectations
Reduction in Customs Duty on Natural Rubber, from 20% (or Rs. 30/kg whichever is lower) at present to a suggested rate of 10% (or Rs.10/kg, whichever is lower).
Or alternatively...
Increase in customs duty on imported Tyres from 10% at present to 20%, the same rate as its principal raw-material (i.e. Natural Rubber);
To meet the definite shortfall between domestic NR production : consumption (gap in availability for which imports are indispensible), limited quantity of NR import- on Tariff Rate Quota (TRQ) basis- @ 7.5% for a quantity of 200,000 MT for Fy 14-15. Such TRQ based volume of NR import be allowed on a recurring basis each year as per demand : supply gap as established by the Rubber Board (Govt. of India) each year.
Allow import under ASEAN FTA in line with concessional tariff on finished products (Tyres)
For other key RMs of Tyre Industry, the duty inversion / anomalies continue and need to be corrected by way of:
a) Waiver of customs duty on raw materials NOT manufactured domestically,
i) Butyl Rubber (HS Code 4002 31 00) – present rate of customs duty : 5%
ii) Styrene Butadiene Rubber (Tyre Grade) (HSN 40021900) – present rate of custom duty: 10%.
iii) EPDM (HSN 4002 7000) - present rate of Customs Duty : 10%
Reduction in Customs Duty on key raw materials of Tyres for which the domestic capacity / production is insufficient to meet domestic demand, i.e.
i. Nylon Tyre Cord – Reduction sought from 10% to 5%;
ii. Poly Butadiene Rubber – Reduction sought from 10% to 5%;
iii. Steel Tyre Cord (HSN 7312 9000) – Reduction sought from 10% to 5%;
iv. Rubber Chemicals – Reduction sought from 7.5% to 2.5%
v. Polyester Tyre Cord – present rate of customs duty: 5% to 2.5%
Project Import: To promote industrial activities, Customs Duty under Project Import to be reduced from 5% to Nil for Green Field Project Import and from 5% to 3% to Substantial Expansion Project (Brow and Field Project)
Import by R&D Institutes, Registered with DSIR: To give impetus to R & D innovations, duty of 5% to be waived.
Tyre Raw material duty structure:
| | | |
| --- | --- | --- |
| Raw Material | Existing Duty | Suggested / Proposed Duty |
| Nylon Tyre Cord Fabric (NTCF) | 10% | 5% |
| Poly Butadiene Rubber (PBR) | 10% | 5% |
| Rubber Chemicals | 7.50% | 2.5% |
| Polyester Tyre Cord | 5% | 2.5% |
| Steel Tyre Cord | 10% | 5% |
| Butyl Rubber* | 5% | Waive off |
| EPDM* | 10% | Waive off |
| Styrene Butadiene Rubber | 10% | Waive off |
| (SBR)* (Tyre Grades) | | |
Source: ATMA
Stocks to watch
MRF, Apollo Tyres, Balkrishna Industries, CEAT, J&K Tyres etc
Outlook
The falling raw material prices (rubber) are a positive for the industry, with demand playing the spoilsport. With government's focus on infrastructure, auto demand is sure to get a boost. In the long term, pick up in the automobile sector will play a major role in boosting the topline of tyre industry.
The tyre industry is expected to grow by a CAGR of 11%-12% during the next three years (2015-17) with revenues of Rs. 62300 crores by 2016-17. For 2014-15, the domestic tyre industry is expected to grow by ~8% to Rs. 49300 crores, supported by ~6% domestic volume growth. For rest of 2014-15, the natural rubber prices to remain low, boosting the margins of Tyre makers.