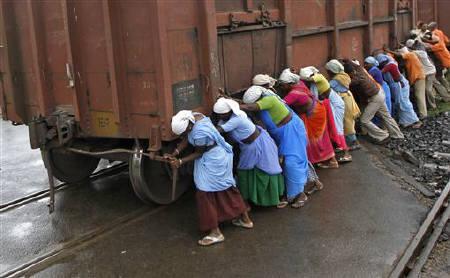 Defending the hike in freight rates that would rake in Rs 4,000 crore more, Railway Minister Suresh Prabhu on Thursday said it would have minimal impact on the transportation of commodities and would not affect the prices of essential items like foodgrains, fertilisers and urea.
At a post-budget briefing, Railway Board Chairman AK Mital said there would be a marginal 3 per cent increase in freight rates on an average due to freight rationalisation and it would have no effect on the prices of essential commodities.
Raising resources through other avenues was necessary for the national transporter as it could not rely upon gross budgetary support (GBS) alone to fund its infrastructure augmentation, Prabhu said after presenting the Railway Budget on Thursday.
Laying emphasis on capacity augmentation and decongestion of the rail network, he said that the idea was to not announce new trains till a review was done to unclog the network.
Prabhu said that the rail budget has laid a roadmap for the coming five years for an overall revamp of the rail system, which entails an investment Rs 8,56,020 crore. For the current year, the investment figure is Rs 1,00,011 crore.
"Money that is to be raised to finance our operation is largely coming from extra-budgetary resources. But we cannot depend upon the GBS alone. The finance ministry also raised money from the market. So why not we do the same thing?" Prabhu said during his post-budget media interaction.
He said railways had suffered enough because it could not invest adequately in capacity augmentation even as he averred that "that is what we are trying to do".
With the rationalisation, there have been some changes in classification and slabs for various commodities, he said.
Railway Member (Traffic) Ajay Shukla dismissed talk that the freight rationalisation would lead to an across-the-board hike in rates.
He said that the rationalisation would lead to a saving of Rs 1 lakh per rake in case of coal if it was being transported from Korba to Gandhinagar and about Rs 4.65 lakh per rake if iron and steel was being shipped from Bokaro to Amritsar.
Similarly, the savings per rake in case of limestone and dolomite being transported from Jaisalmer to Rourkela would be Rs 5.49 lakh.
Prabhu said, "We have only rationalised the freight rates. For some sectors, rates will come down while overall it (impact) is very small."

Mittal further said that in case of salt there would be no hike while, for sugar, the hike will be four paisa per kilogram and one paisa in case of iron ore and steel. In case of diesel, the charges would come down by one paisa, he said.
Budget 2015: Complete Coverage
Meanwhile, looking to underline his ministry's approach in drawing up the budget, Prabhu said, "Till now we used to make rail budget for others. But this time, we made the rail budget for railways."
Emphasising capacity enhancement, Prabhu said, "Efforts are being made to decongest the network. Lines are saturated. Focus is now on decongesting the network."
Highlighting other aspects of the rail budget, he said it has taken care of all sections of society.
"We have tried to look after all sections like elders, women, farmers, defence personnel, NGOs and self-help groups (SHGs). There will be quota for elders and Braille signage in coaches for visually-challenged," he said.
He also said that railways will promote products manufactured by NGOs and SHGs. Railway Board Chairman Mital said that the semi-high speed train service on the Delhi-Agra route will be started in one months' time.
"All trials for running the semi-high speed train on Delhi-Agra route are over," he said.
Asked about the reasons for the delay in launching the semi-high speed train service, he said, "There were some observations of the Commissioner of Railway Safety (CRS), which have been complied with and we will start the train next month."