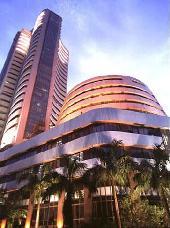 Markets fell sharply to end near three-month lows on Tuesday with the benchmark Nifty ending below 5,800 for the first time since November 27, 2012 ahead of the GDP data to be released before the Union Budget on Thursday.

Global cues were also weak on account of uncertaintly in Italy post the general elections.

The BSE benchmark index slipped 1.6% or 316 points to close at 19,015 and the Nifty gave off 93 points or 1.6% to close at 5,761.

Also, there were no positive surprises in the Railway Budget 2013-14 which was presented by the Railway Minister, Pawan Kumar Bansal in the lower house of the Parliament.

The Budget spared passengers from any further hike in fares but raised various other charges on tickets along with freight tariff of less than 5 per cent.

It also proposed introduction of 67 new Express trains, 26 new passenger trains and extension of 57 others.

On the macro front, India's annual economic growth is expected to have slowed to 5.0 per cent in the three months to December due partly to a struggling farm sector, having already struck a near three-year low of 5.3 per cent in the previous quarter, according to a Reuters poll.

Forecasts of growth in gross domestic product for the October-December quarter ranged from 4.5 per cent to 5.6 per cent in the poll of 36 economists.

The latest GDP data is due to be released at 12 noon on Thursday, shortly before Finance Minister P. Chidambaram announces the 2013/14 budget.

In other markets, Italy's inconclusive election result sparked a selloff on world equity markets on Tuesday and sent safe-haven German bond yields sharply lower as investors feared a resurgence of the euro zone debt crisis.

London's FTSE 100, Paris's CAC-40 and Frankfurt's DAX were down as much as 2.5%.

Japan's Nikkei share average fell sharply at the open on Tuesday, retreating from a 53-month high as the yen strengthened on uncertainty following the Italian elections, with shares of some big exporters to Europe tumbling.

The Nikkei dropped 2.4% to 11,380.

Hong Kong shares sank to their lowest close this year on Tuesday, with financials and other growth-sensitive sectors the bigger losers as Italy's political uncertainty made investors wary of risky assets.

The Hang Seng Index fell 1.3% to 22,519.7, its lowest closing since December 21.

Back home, the broader markets had another day of sell off with the smallcap index down 2.4% and the midcap index giving off 1.7%.

Among the sectoral indices, selling was visible across the sectors barring IT which gained 0.9%.

The top sectoral losers were Oil & Gas down 3% followed by Auto, Capital Goods, Metal, PSU and Health Care indices losing 2%
each.
The only gainers among the Sensex stocks were IT names such as TCS, Infosys up 1.5% each. Bharti Airtel and NTPC up 1.4% and 0.7% were the only other gainers.
Among the draggers were Oil & Gas majors Reliance Industries and ONGC down over 3.5% each.
Auto names like Bajaj Auto, Mahindra & Mahindra, Tata Motors and Maruti Suzuki slipped 2.5-4%.
Hindalco, HDFC, Coal India, Tata Steel, ICICI Bank, BHEL, Sun Pharma and Dr Reddys Lab lost 2.5-4.5%.
Among other stocks, shares of companies which are dependent on Indian Railways for revenues have plunged up to 9% in noon deals as no major announcements made by the railway minister in its Rail Budget today.
Kalindee Rail Rs 70.35 (-11.6%), Titagarh Wagons Rs 245.45 (-8.1%), Kernex Microsystems (India) Rs 44.30 (-15.13%), Hind Rectifiers Rs 60.50 (-8.82%), Bartronics India Rs 16.10 (-0.6%) slipped on the Bombay Stock Exchange (BSE).
Meanwhile, Zicom Electronic Security Systems Rs 82.45 (+4.2%) gained after railway minister proposed electronic display in trains for giving real time updates of train arrivals and stations.
Jet Airways (India) plunged 11% to Rs 448, extending losses for the fourth straight day, amid investor concerns whether its stake-sale deal with Etihad Airways would materialise.
Lovable Lingerie plunged 10% to Rs 243 on back of heavy volumes on BSE.
Aanjaneya Lifecare has locked in lower circuit of 20% at Rs 455 on BSE for second day in a row with no buyers on the counter after the pharmaceutical company said that the international investors are cautious due to wide fluctuation in the market price of scrip.
The market breadth was very negative on the BSE. 2072 stocks declined while 774 stocks advanced.