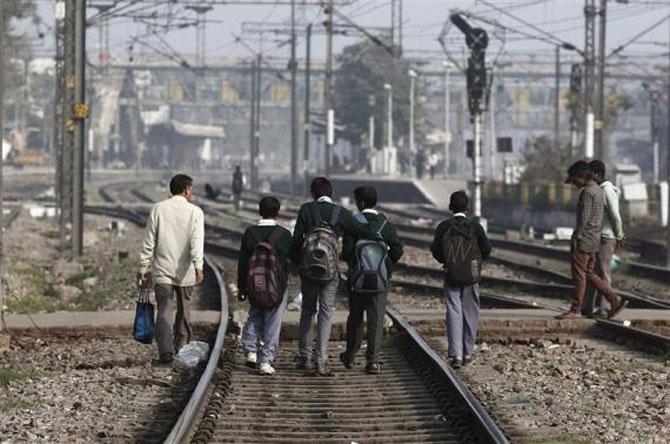 The key message is that the government wants to increase investment in railways over the next five years.
Ritesh Jain, CIO, TATA Asset Management
1) Management of finances – Lower oil is saving grace: No hike for passengers but some small hike for freight. The government has got some saving from lower diesel costs and hence from a financial management perspective it will still be fine – so not a big negative.
2) Investment plans - positive: The key message is that the government wants to increase investment in railways over the next five years (which works out to be about 1% of GDP per annum approx. vs 0.6% of GDP per annum average over the last years). Funding could be arranged from multilateral lateral agencies/bilateral support (like from Japan). As usual, execution will be key.
| | |
| --- | --- |
| PROPOSED INVESTMENT PLAN (2015-2019) | |
| Item | Amount (Rs in crore) |
| Network Decongestion (including DFC, Electrification, Doubling including electrification and traffic facilities) | 199320 |
| Network Expansion (including electrification) | 193000 |
| National Projects (North Eastern & Kashmir connectivity projects) | 39000 |
| Safety (Track renewal, bridge works, ROB, RUB and Signalling & Telecom) | 127000 |
| Information Technology / Research | 5000 |
| Rolling Stock (Locomotives, coaches, wagons – production & maintenance) | 102000 |
| Passenger Amenities | 12500 |
| High Speed Rail & Elevated corridor | 65000 |
| Station redevelopment and logistic parks | 100000 |
| Others | 13200 |
| TOTAL | 8,56,020 |
Budget 2015: Complete Coverage
· Operating ratio (gross expenses/gross earnings) is targeted at 88.5% in FY16 from 91.8% in FY15E, a level not witnessed in the last several years. The targeted improvement is potentially led by lower fuel cost and other efficiency improvements.
· DFC: modest targets in FY16 (much below expectation). On DFC, the ministry expects award of 750 km of civil awards and another 1,300 km of system/electrification awards. This is against its expectation of 1,000 km of civil awards in FY2015, against which no major contract got finalized so far this year (one contract on the eastern side is still in LoI stage to be finally awarded to GMR and one electrification order was awarded on the western side). This could likely delay the completion of the DFC project (current targets are Dec,18 for WDFC and Dec,19 for EDFC).
· Setting up of regulatory authority which apart from other things will determine tariff. This may lead to de-politicizing tariffs over the long run.
---
The first railway budget of Suresh Prabhu is striving to make it the prime mover of the economy, once again
Dipen Shah, Head- Private Client Group Research, Kotak Securities
"Prime focus of the minister is in enhancing its operations, targeting operating ratio at 88.5% for FY16 from 91.8% in FY15. Budget carves out various resource mobilisation routes, moving away from budgetary supports. He has proposed to part-finance the ambitious 5-year investment plan of Rs.8.56 trn through funds from foreign institutions, Pension Funds, States, PSUs and PPPs both in form of equity and debt through SPVs.
Focus is more on implementation and improving the service quality rather than on big bang announcements. Focus is also on commercial viability as much as it is on social welfare.
We believe that, efficient execution of these initiatives will indeed improve the passenger revenues while also attracting more freight traffic to Railways.
Change in freight fares seems cosmetic in nature, no change in passenger fare is welcome move, given fuel cost has come down significantly over the period.
The markets have likely been disappointed by the absence of several big announcements relating to the dedicated freight corridors or other capex programs as well as finer details on FDI / PPP financing. However, the focus on effective implementation, improving the operating ratio as well as on new initiatives bodes well for the railways in the long term. We expect the focus on deficit as well as reforms to be reflected in the Union Budget, and we will watch out for the same."
---
Assocham applauds the transformational approach towards Railway. The Railway Budget is a determined effort to make the Indian Railway customer focussed assuring both the passengers and industrial consumers of much better services with the help of technology, said Rana Kapoor President Assocham.
The initiatives like larger role of the private sector in station upgradation, rolling stock and bulk transportation would go a long way in making the Railways efficient. Besides enhancing train speed both for passenger and freight segment would bring in higher efficiency and improve ease of doing business, said Kapoor.
Big increase in the Plan size of over Rs 1,00,000 crore would lead to a positive impact on other sectors related with the Railways...... The Budget shows that for the first time the government has started treating the Railways as a commercial enterprise without using it as a political vehicle. It is rather being used as a development vehicle, added the Assocham chief.