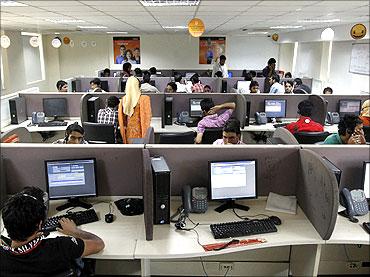 Finance Minister Arun Jaitley will present the Budget in Parliament on February 28.
What does the Indian IT sector expect from Jaitley?
What impact will it have on the information technology sector?
Will the Budget help India's business process outsourcing flourish or will it suffer?
Ganesh Natarajan answered these and other questions on the rediff pre-Budget chat on Friday.
Natarajan is one of India's IT leaders. He is the Vice Chairman and CEO of Zensar Technologies.
Here is the transcript:
Hazal
Mr Natarajan: Do you believe that IT industry will be able to sustain high costs of employees in future too?

Ganesh Natarajan
Hazal, employee costs are a significant portion of our industry but not as high as you may worry about. Better tools and productivity will make us succeed continually !

Tushar
Do you think India can achieve 8 per cent growth considering the economy is still very sluggish. Please comment.

Ganesh Natarajan
I am sure we can cross seven percent in 2015-16 and reach and sustain eight percent GDP growth for a few years after that. China did that for many years and we have the appetite and the ability to repeat that success story ! But all of you need to participate.

Rashmi Lokar
Mr Natarjan: Why are you so optimistic about our economy when HDFC Chairman, Deepak Parekh said it is time the government delievers because India is still a difficult place to do business. Do you agree with that statement?

Ganesh Natarajan
Rashmi you must remember that we have built this industry over the last thirty years from a time when nobody even knew what software was. Deepak Parekh is a good friend and is expressing the desire to speed up that all of us have. I am sure the Government knows what all industry segments need and we will see a strong pro-active budget and actions to make our dreams come true !

Nitin Deshmukh
Sir, can you give us your some wishlist from Budget of this year? What do you expect from Finance Minister, Arun Jaitley?

Ganesh Natarajan
Hi Nitin, my biggest wish is to see our industry continue to grow in medium to high double digits for the next ten years and more ! That will happen if all segment od the industry get the right production and buying environment to grow ! The budget can enable this !

Nita Nagpal
Sir, I am a correspondence student, and I am doing Com. Engineering from Kalina University, next I am keen to study Java, Can I go for MS ?

Ganesh Natarajan
Sure Nita, you can definitely go for your MS and make sure you choose the right areas of specialisation !

Anil
Hello Sir, Just like Call Center jobs are moving to Philipines et al. Do you think IT jobs too will move in big numbers to other countries?

Ganesh Natarajan
Anil you may be surprised to know that many of the large centres in Manila are run by India companies. So its just a location of convenience. If the Government policies are right and supportive there is no reason at all for IT jobs to move out of India - we still have the largest and best talent pool by far !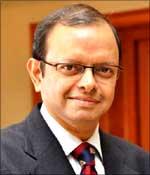 Soflab
Overseas Datacenter & web companies selling services in India in INR to End Users, But they are not liable to pay service tax & not applicable for TDS deductions. In such case1.How can Indian business compete them2.How can 'make in India' program flourish if it continues it would be 'Make for India' not Make in India

Ganesh Natarajan
Many of our recioommendations for this budget are in the area of tax rationalisation, minimisation of MAT and lower levies on start-ups. I hope that will happen
Interesting point here - Make for India is indeed as important as Make in India and I am sure we can do a lot in IT to make all manufacturing competitive !

Pramodh Sinha
Sir,Wanted to ask you, why your company Zensar dosen't have any presence in Kolkata, even though there is a huge talent pool in that region.

Ganesh Natarajan
Pramodh, we now have five centres in India -- Pune Bengaluru Hyderabad, Navi Mumbai and NOIDA and will be looking for a sixth by end of the year -- Kolkata Bhopal Bhubaneswar - all are options !

Kiran Derle
Sir, what do you think, political leaders will be digitised now.

Ganesh Natarajan
Kiran what do you mean by political leaders being digitised. Political battles are greatly using Digital and in our recent customer confernec we had a fascinating session by the social media head of one of the leading political parties. Our PM is very tech savvy and so are many new political leaders !

Shirish
Sir, Why do engineers need to do MBAs? Why that degree matters so much when you are already a brilliant engineer? If I waste 7 years of my life in studying. I will by 23 years old by the time I reach job market. Is MBA must?

Ganesh Natarajan
Shirish, my advice to you would be to use thos engineering skills and be good at what you love to do. If you need an MBA you can always do it later or even pursue it part time. There is nothing wrong in being the greatest tech guru -- look at Steve Jobs, Nandan Nilekeni and Bill Gates. No MBAs there!

Sathya Narayana
Hi Ganesh Is there is any chance where STPI policy is revived? ThanksSathya

Ganesh Natarajan
Hi Sathya, I dont think the STPI will be continued but what we would definitely like to see is incentives for start-ups and set-ups in smaller towns and cities. We also hope to see tax structures linked to employment and incentives for companies that build new technology as well as provide robust employment !

Mahesh G B
Sir,Your view on:Policy and budget:1. Startup eco-system2. World class Software Product company3. IP buildingMahesh GB, Hubli

Ganesh Natarajan
Mahesh, world class software products are never easy to build because they need a lot of reserach, great design and investment in production of the best and most efficient product. A winner in this area is what we all look forward to !

Manali-Sutar
One of the big questions on the table is whether IT departments are getting to the point where the money in the yearly budget allocated for new deployments and A/B testing outweighs that set aside to keep day-to-day operations running smoothly.

Ganesh Natarajan
This is a good question and all CIOs and IT Heads will have to maintain the delicate balance between new investments and keeping older systems running - this is what I called Two Speed IT earlier !

Kiran Derle
What do you think, Now marketing of political parties be digitized?If you want budget to be more IT centric, what should be more efficient way to invest in this sector?

Ganesh Natarajan
Kiran , the fact is that the IT industry has contributed massively to job creation and economic growth in our country. In 2015-16, we expect over 2 lakhs new jobs to be created and industry growth of 12-14 %. We believe that IT should be a big focus of the current budget and I am sure it will happen !

Shahin
Hello Sir, What do you expect for IT industry in this budget in policy terms? Can you please comment?

Ganesh Natarajan
Shahin, ther industry expectations are broadly in three buckets - Tax Rationalisation to keep India competitive, an enabling environment for start-ups to ensure they stay and build their companies in India and strong incentives for domestic work as well as setting up IT businesses in Tier 3 and Tier 4 cities.

Venkataramani Krishnamurthy
Hi Ganesh, I am happy to see your photograph. I am reminded of SIES college days. I was in 1969-70 in FY Sc. You are probably in the 1970-71 in FY Sc. What is the future of IT giants TCS, Infosys etc. ? Would they able to sustain 25% growth for the next 5 years?Best regards, K Venkataramani.

Ganesh Natarajan
I am not SIES unfortunately - BIT Mesra NITIE and then Harvard Business School.

Ganesh Natarajan
There is a good future for all companies - large, medium, small and start-ups if they pratice innovation and dont assume that the future will be an extrapolatiojn of the past. You have to keep re-invesnting yourself to stay ahead. Both TCS and Infosys are capable of doing that !

Mahesh G B
Sir, Your view on:Support for startup eco system, IT products, IP and innovative research with long term view for 10 to 15 years from now:Thanks,Mahesh

Ganesh Natarajan
Good question Mahesh. We should expect to see an equal focus on IT Servicesm BPM, Engineering and Product Devlopment in the years to come. The budget needs to boost both producy creators and start-ups !

Manoj
Which are the sectors that are going to create jobs in the next five years? what is your advice to students?

Ganesh Natarajan
Students should focus on learning new technologies like Cloud Mobility Big Data and Analytics. While programming skills are still important, the ability to help companies in their transformation agenda is going to be critical, Manoj

Bulls-Eye
I want quit my job and become self employed, what we can expect from this budget, will the focus only on getting FDI or encourage citizen by encouraging economically

Ganesh Natarajan
I definitely expect that there will be a lot in this budget for entrepreneurs. In fact under the stewardship of Minister Rudy, the newly minted Skills & Entrepreneurship Ministry has a big role to play in creating a new energy and capability in India

Anita Nambair
sir i have done MCA in distance education and have been working as an executive assistant for past 10 years, I have received an offer project manager, im am very confused whether I can do it or not? As I only have MCA education.

Ganesh Natarajan
Anita I am sure you have developed enough management skills to be successful. Get some training and take the plunge ! All the best

Sonia Agarwal
Choosing a career is a life-changing decision. It defines where you end up 10-20 years from now. That's why, people always suggest choosing a career carefully. Is IT career a safe career?

Ganesh Natarajan
At the end of the day we are a poor country and anything we do must first help the poorer sections of society. Balance between Skills, Agriculture Manufacturing and services will enable job creation and overall development and growth! IT is still one of the best career choices Sonia, but remember its a fast changing industry and you must ensure that you stay on your toes and never stop learning!

Budget 2015: Complete Coverage
Hardik
The IT budget should be aligned with the strategic goals of the city or town. This will help in the creation of a business case for the expenditures, Do you agree?

Ganesh Natarajan
Yes of course - in fact in Pune we have a Pune Action Task Force which includes Digital Pune as one of its key focus areas.

Ramchandran Vishwanathan
Sir is your company doing any substantial project in India. What incentives can the government offer to make Indian IT professionals work in India rather than work in developed countries

Ganesh Natarajan
Zensar is active in the Dairy Sector, Electricity Distribution, Digital Literacy and Digitisation. Our commitment to India is strong and will continue to grow !

Zubeda-Pawaskar
The first option is for IT leaders to give the remaining resources back to the organization, showing that they are able to come in under budget, your suggestions!!

Ganesh Natarajan
If you see IT as strategic to the organisation, you will view it as an investment not an expense. That changes the perspective and enables CIOs to make big investments like Digital !

Kailash-Chandra Vaishnav
Why employee are paying two time tax, first when getting salary and second buying any product. But business man are paying only one time that also not truth.

Ganesh Natarajan
Sales Tax and Personal Income Tax are two different things Kailash. Of course we do hope that both personal tax and corporate tax will be brought down in this budget

John
Sir, Budget season is always a stressful time for CIOs, who are expected to accurately forecast IT spending and budgeting needs for the coming year. How much should you spend on IT maintenance vs. innovation?

Ganesh Natarajan
Gartner talks about Two Speed IT - CIOs will have to have equal focus on "Run the Bank" maintennace while they explore new opportunities like Digital Transformation

Hardik
IT budgeting and spending is a balancing act between needs and wants even in a strong economy, what are your suggestions sir?

Ganesh Natarajan
Every FM has to toggle between growth and development, while keeping a close eye on the fiscal deficit. This is true for subsidy rationalisation as well.

Devaraj K
Is it really tax-free in the india ..?

Ganesh Natarajan
What is tax-free Devaraj ?

joseph
Every organised sector of the industry has one or the other guy to represent or air views, it is only the am aadmi who has no one to represent or lobby with the govt so they are the losers , will have to satisfy themselves what what they get and normally no government is serious or bothered about them.

Ganesh Natarajan
I am sure Hon FM will do his bit for the Aam Aadmi -- in fact I believe that Digital India itself if correctly implemented will greatly benefit the poorer sections of society !

Amitabh Ramani
Will Startups benefit from the Budget and what would be the impact on incubators?

Ganesh Natarajan
Incubators, start-up funds and easy access to capital - all these are part of our budget recommendations

Amitabh Ramani
How will startups and incubators benefit from the Pre Budget? What do you forsee for the same?

Ganesh Natarajan
If there are enough incentives for start-ups to get easy financing from angels and VCs it will greatly facilitate the eco-system -- one of the key focus areas of NASSCOM for the budget recommendations

Images: (Top) Workers at a BPO centre in India. The image is used for representational purpose only. Photograph: Reuters; (Bottom) Image: Ganesh Natarajan. Photograph: Kind courtesy, Ganesh Natarajan