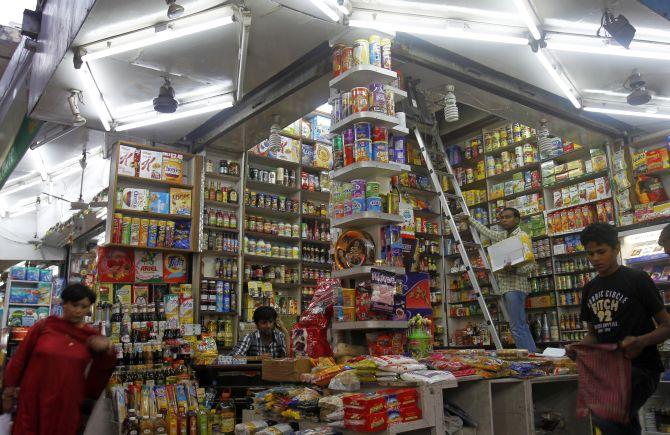 The fast moving consumer goods and retail sector on Saturday welcomed the Budget proposal to introduce GST from April next year, saying the move will give a big fillip to the industry.
The Budget proposed to roll out GST (Goods and Services TAx) from next fiscal.
"The Budget clearly talks of a long term vision for economic growth, a vision which dreams of better amenities, infrastructure, skill development and jobs. The focus on broad-based growth will benefit the FMCG industry. Budget 2015: Complete Coverage
"Along with increased investments in MGNREGA and social security, a firm roadmap for reduction of corporate taxes, ease of doing business and GST is very reassuring for the long term balanced growth and augurs well for the industry," Marico managing director and CEO Saugata Gupta said.
Echoing similar sentiment, Ullas Kamath of Jyothy Laboratories said, "The Budget is a sincere effort to address all class of society and bringing the economy back on track."
More money in the hands of the masses by way of social sector schemes like farm credit, rural infrastructure funds allocation, MNREGA allocation and increasing agricultural area and productivity.
EY India's Retail and Consumer Products Leader Pinakiranjan Mishra said increase of service tax would have a negative impact on the sector till implementation of GST.
"This Budget proposes a lot of structural changes and avoids the usual high decibel measures like increase in tax exemption limits."
"I would say that the ease of doing business is the biggest plus. Reaffirmation of the GST roadmap, removal of SAD, relief for the footwear sector and general focus on easing approvals, reduction of tax on royalty from 25 per cent to 10 per cent, reduction of corporate tax, are quite positive," he said.
"The hike in service tax to 14 per cent will have a negative impact on the retail sector but hopefully only for an year with GST implementation, it will be short lived.
On the long-term, there seems to be a lot of focus on the social aspect with schemes for accident and health insurance and pension which will be very positive for the sector in the long run," he added. KPMG's Retail Sector Head Rajat Wahi said Budget envisages a balanced and long-term economic and industrial growth. Budget 2015: Complete coverage
"With positive consumer sentiments and softening inflation, budget announcements on GST, revision of excise/ custom duty structure, fund allocations for skill development and rural markets development would ensure long-term consumption boom for the retail sector.
"The announcement to roll out GST from next April is the single most significant development for the sector, as this would result in uniform taxation for products and services across the country," he added.
Grant Thornton India's Prashant Mehra said, "Visibility on roll-out of GST is a positive announcement which will provide impetus to the economy and accordingly boost investor and consumer sentiment.
"Emami Group director Aditya Agarwal said the Budget will augur well for the FMCG sector if the economy grows.
"For the FMCG industry, this Budget is expected to have a positive impact. Focus on uplifting the rural economy with allocation of funds for irrigation, roads, sops including rural development schemes like MNREGA are expected to have a bullish effect on the rural market of FMCG products, provided we have normal monsoons," he said.