Jaitley is due to present the Union Budget 2015-16 and its fiscal deficit target to parliament at the end of February.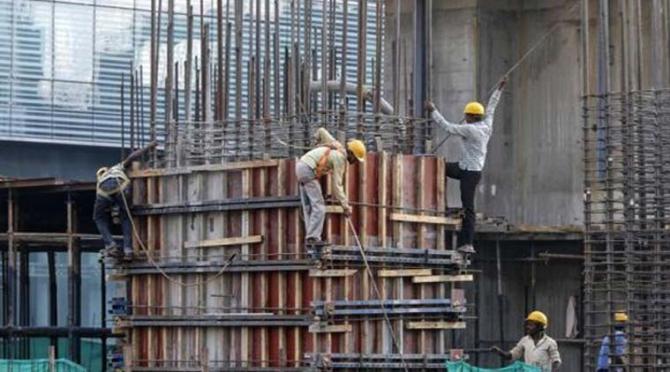 Image: Be it a common man or an economic advisor or an investor, each one has high expectations from the upcoming Budget. Photograph: Reuters
Indian bond yields may not spike if the government opts to increase spending when it unveils its annual budget in late February, so long as the deficit target is widened to no more than around 4 per cent and fiscal consolidation steps are taken.
Some government economic advisors have recommended Finance Minister Arun Jaitley should row back on a fiscal deficit reduction plan that would aim to bring the deficit down to an eight-year low of 3.6 per cent of GDP in the fiscal year starting in April.
They argue that the government's capital spending should be increased to help the economy break free of its slowest phase of growth since the 1980s.
There is some sympathy for that view among market participants, who see little point in setting an unrealistically low deficit target.
They would rather see a slightly larger, achievable deficit target, so long as spending is diverted to vital sectors, such as infrastructure, while cutting subsidies and reforming the tax system to improve revenues.
The Reserve Bank of India has said the government needs to undertake fiscal consolidation if interest rates are to be lowered, as widely anticipated by markets.
"If the deficit target is realistic and the sources of revenues are clearly mentioned along with an outlay of where the money is going to be spent, the market may give it a pass," said Killol Pandya, a senior debt fund manager at LIC Nomura Mutual Fund.
"But an overtly optimistic deficit estimate will lead to a sell-off."
Jaitley is due to present the government's 2015/16 budget and its fiscal deficit target to parliament at the end of February.
The budget statement will be preceded by an RBI policy meeting on Feb. 3, with some speculation that the central bank could lower its key interest rate, which has stayed unchanged at 8 per cent since January 2014.
Benchmark 10-year bond prices hit a 1-1/2 year high on Tuesday after lower-than-expected inflation furthered fuelled hopes of a reduction in rates.
Investors hope lower interest rates, combined with government reforms, will boost an economy that has grown below 5 per cent in the previous two years, a rate that is far too slow for a country with India's population challenges.
Bond investors are ready to cut the government some slack on the deficit provided any increase in spending is geared to a long list of pending reforms, including building housing, recapitalising state-run banks, and developing infrastrucure needed to support manufacturing.
In July, when the government stuck to the previous administration's 4.1 per cent deficit target, bonds fell sharply as investors doubted the government could achieve it.
"The quality of spending is important," said Kumar Rachapudi, a fixed income strategist for ANZ in Singapore.
"If there are clear projects, say infrastructure creation, for which spending is earmarked, then markets may take it a bit positively."
Any spending increases would need to be accompanied by a plan to rein in outgoings, notably on food and fuel subsidies that account for a substantial part of government spending.
Investors, analysts and rating agencies agree.
Standard & Poor's, which currently rates Indian sovereign debt one rung above junk bond territory, wants the government to adopt a goods and services tax and reduce subsidies that are equivalent to nearly 2 per cent of GDP.
Bond investors would welcome stronger credibility in India's budget plans, as the previous Congress-led government often adjusted deficit targets mid-year after setting unrealist goals.
Arvind Chari, who manages two offshore funds as head of fixed income and alternatives at Quantum Advisors, said that even given extra leeway, the government would still want to assert its commitment to keeping deficits under control.
"If they are deviating from the roadmap, it would be imperative to tell the market why and how they plan to get back on track," he said.