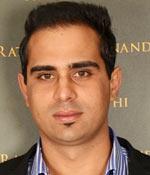 Finance Minister Arun Jaitley presented his Budget on February 28.

What impact will it have on your financial planning?

Will you be able to save more money now or will your expenses go up?

Under the present circumstances, what will be the best investment options?

Should you put in more money in the stock markets or should you choose long term fixed deposits?

Will mutual funds be safe money-making avenues now?
In an hour-long chat on rediff.com on Tuesday, personal finance expert Feroze Azeez answered many such queries.
Azeez is director -- investment products (private wealth management), Anand Rathi Financial Services Ltd.
Here is the transcript:
Amol chille
Is Mutual fund the best options to invest in 2015, your views.
Feroze Azeez
I would suggest you have a mix of 60% large cap and 40% mid cap. You can invest in SBi Bluechip, ICICI Pru Focused Bluechip, Religare Mid and Small Cap and Franklin India Prima Fund
Feroze Azeez
Mutual Funds offer you the benefit of diversification and professional managment. Further in terms of risk or volatility, they are better than stocks. The fund manager manages it actively and saves the efforts of tracking individual companies. You should invest in Mutual Funds for long term consistent returns
suresh
I have invested in MFs in 2009. Is it the right time to come out from funds. please guide me some
Feroze Azeez
I would recommend to increase allocation to Equities now as the outlook is positive with macros improving and earnings cycle expected to pick up gradually. If you have invested in 2009, you should review your portfolio and see if you need to switch to better funds.

pramod jain
I would like to invest in reliance retirement fund launched recently, whethere it will be eligible us 80ccd.
Feroze Azeez
As of now, Retirement fund is eligible for deduction under section 80C, Similar to your ELSS scheme. Further, the retirement fund has a lockin of 5 years and the exit load is applicable till you reach the age of 60 years. You may want to opt for an ELSS scheme, in case you want the flexibility to redeem early without any costs.

satish
i want to invest in MF . suggest some large cap, midcap, small cap for long duration with exposure in equity
Feroze Azeez
Large Cap - Mirae India Opportunities Fund, ICICI Pru Focused Bluechip Fund.Mid Cap - HDFC Mid Cap Opportunities Fund, SBI Midcap Fund.Diversified - Reliance Equity Oppotunites Fund

manoj
Is this time right to enter indian markets or should i wait for a correction
Feroze Azeez
this is definately the right time to invest in the market as we are at reasonable valuations and with macro improving, corporate sentiments are improving. the expectation is of an atleast 18 - 20% in the coming few years. This could take market to double from current levels. Also you need to note that time in market is more important than timing the market.

shakeel ahamed
Kindly let me know some sharia compliant stocks/mutual funds
Feroze Azeez
Tata Ethical Fund is one the best Shariah compliant funds. You can also consider investing in some Technology or Pharma Funds.

partha das
Hi, i have monthly gross income of about 80,000/- from which i am serving a home loan with monthly emi of 37000/-. Kindly suggest the investment so that i can build up my corpus for retirement with a pension plan.
Feroze Azeez
It is important to select the right asset allocation before you decide the instrument / product to invest into. Since you have a long term goal, you should invest around 70% in Equities and balance in Debt. If you investa round Rs. 20,000 per month in the above asset mix, assuming a 12% return, you would have accumulated around 2 Crs after 20 years.
Feroze Azeez
You can invest in funds like HDFC Equity, ICICI Pru Discovery, Franklin India Income Opportunities to start with.

Sonal
Hi, I invested in equity, out 5 lakh i lost 1 lakh. How to recover my money?
Feroze Azeez
Any investment in Equity if held for a long term (over 5 years) has the potential to generate real returns and beat all other asset classes. Would suggest to stay invested i Equity markets, You may havve to reallocate your current investments to mutual funds with a superior track record.

A-Samad-Munsab Shaikh
Dear sir i want to invest in ELSS mutual Fund kindly suggest, me can i go with SIP with one MF or 03 MF and which one?
Feroze Azeez
In case you have liquidity, I would recommend you invest a lumpsum in ELSS, If you invest via SIP route, the last installment will have to stay invested till 3 year. you can invest in Axis Long Term Equity, HDFC Tax Saver or relaicne Tax Saver Fund.

Salil Shete
How to utilize this newly added NPS limit?. Also PM announced more of these Rail Bonds. So will these bond investments will be a part of 80CC?
Feroze Azeez
as per the new budget, you can invest an additional Rs. 50,000 in NPS schemes which you can use for retirement planning. As far as the rail bonds which would be issued in the form of tax free bonds will not be eligible for deduction under section 80C, but the interest income you will receive will be tax free.

Navdeep Kumar
I want to put 1,00,000 rupees in mutual fund can you suggest me in which fund to invest.
Feroze Azeez
You should invest in funds such that you have a good balance of large, mid and small cap companies. You can invest an equal amount in Birla Frontline Equity, Franklin India Prima Fund and Reliance Equity Opportunities Fund.

pankaj shah
Hi, i have monthly gross income of about 1,00,000/- form which i am serving a home loan with monthly emi of 38000/-. Kindly suggest the investment so that i can build up my corpus for retirement and daughter marriage.
Feroze Azeez
Since you are looking at a long term horizon, I would suggest you invest in Equities through Mutual funds. You can invest in diversified funds like - HDFC Equity Fund, SBI Bluechip and Reliance Equity opportunities