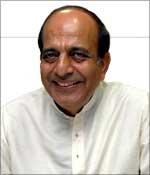 Soon after Union Finance Minister P Chidambaram presented the Union Budget 2013 in Parliament, Trinamool Congress leader and former Railway Minister Dinesh Trivedi joined us for the Budget chat.

An astute member of Parliament, he decoded and analysed the Budget.

Here is the transcript:
mr.dinesh Trivedi,tmc says, I am sorry. I am late but now ready to take your questions
---
mr.dinesh Trivedi,tmc says, HI Himanshu.. Only huge infrastructure investment can create employment opportunities. LIke big time investment in railways and roadways -- these are totally missing in both the budgets.
---
mr.dinesh Trivedi,tmc says, Vibhor, I agree with you.it reminds me of Gandhiji whenever you take decision kept the last man standing in queue in mind. FM has not kept 80% population in focus. Education and health has been given almost nothing.
---
PRASANNAKUMAR asked, ANY NEW TAX LEVIED FOR GOLD AND GOLD ORNAMENTS
mr.dinesh Trivedi,tmc answers, at 2013-02-28 15:52:46Gold does not create tangible savings and you can not create tangible assets. Therefore, gold needs to be converted into bonds which in turn can be leveraged otherwise so much of gold and silver lie in the hands of so many of Indians without getting into the economy. A parallel economy gets boost with hoarded gold. It's the easiest way of siphoning and creating black economy.
---
Deep asked, I don't think so this budget will bring any growth for nation. The current govt. put more and more taxes on common person.
mr.dinesh Trivedi,tmc answers, Dear Deep, the growth of the nation can only come with creation of huge assests whether in form of bridges, roads, or railways infrastructure which is a part of real development and modernisation but this budget and rail budget have no big ideas at all. It is more of a lawyer's budget than the finance minister's budget.
---
pawan asked, sir does this budget make you happy
mr.dinesh Trivedi,tmc answers, pawan, not at all! India is sitting on a huge parallel economy. While we keep talking about getting back Swiss money to India nothing has been done to unearth black money in India which is larger than official economy as even the elections are funded in cash. I am sure honorable finance minister will also be receiving cash during his election and would go under the excuse of compulsions of election which I think is fooling ourselves!
---
ganesh.kudva2005 asked, Dear Sir Just want to know your View on the budget with Sincere & being Unbais do you think that really was this a good budget.
mr.dinesh Trivedi,tmc answers, Dear Ganesh, this is absolutely case of a big opportunity lost. If you look at the budgeted plan outlay which in 2012/2013 is at Rs. 590000 crore. Compare it with curent proposal of plan outlay which is targeted at Rs 555000 crore which means it is reduced by Rs 35000 crore, tthough higher than the revised budgeted estimate of 2012/2013. So if they have been not been able to achieve the target of current year than how is FM planning to achieve his target for the next financial year.
---
Badri asked, My last question Sir, Do you think India has the potential to be No 1 in world in near future ?
mr.dinesh Trivedi,tmc answers, Dear Badri, Of course, yes! World's best of talents are from India. Toppers in university across the world are Indians. Best of doctors and engineers are from India. Best of CEOs in multinationals are again from India. given the history of India when India contributed more than the one fourth of world's GDP it means we have the potential. But the question is does the political system has the intention? Because the best can not survive in the curent political system. It is only the mediocre, corrupt, self-seekers and cha-chas get to progress in this political system which has corroded In the last few decades.
---
kjram asked, Thank God, this is the last PC budget. He is going to retire after this from public life!!!!
mr.dinesh Trivedi,tmc answers, Is he? I thought retirement is not the word found in the dictionary of politicians they just fade away at times...
---
ars asked, sir, as you have said it is not a progressive budget for the country as a whole. do you see any glimpse of happiness for aam aadmi?
mr.dinesh Trivedi,tmc answers, Dear ARS, aadmi ko aam bana kar aam ki tarah choos liya hai. If the slogan is health for all, education for all as said by honourable FM and you only provide additionally Rs 10000 crore for food security and Rs 3000 crore additional increase in health it means that benefits of health and food are not going to reach aam admi
---
krish asked, Sir, don't you think that gender sensitivity brought into Banking is a pure gimmick?
mr.dinesh Trivedi,tmc answers, Hi Krish, today women require more all-women police stations than an all women bank. it is a joke because if FM were serious about the issue of women then he could have come up with the financial shemes applicable in all the banks rather than just creating one all-women public sector bank.
---
savandavande@rediffmail.com asked, HI Sir, Do you think, this budget will boost the economy in India?
mr.dinesh Trivedi,tmc answers, Hello! Economy can only get the boost if there is an involvement of all the citizens and for which you require Gandhien vision. India is still agri-based economy and there is no big plan to boost agriculture. I didn't even hear the word irrigation. Indian farmers are very hard working but still they have to to depend on rain gods and electricity. Both are uncertain. Their crop is not insured either as they don't have a proper outlet or proper storage facility. Therefore, the kisan who feeds the country goes hungry himself. There is so much of untapped resource in India that we can easily provide dignity to each and every citizen. All one needs to do is recognise the talent and unearth the black money in India. We are talking about Swiss banks but there are lots of Indian banks which do the same job as the Swiss banks do. The NRI money that may be coming to indian banks get the interest but don't pay the tax.
---
joby asked, how do you rate the budget overall
mr.dinesh Trivedi,tmc answers, Guys before signing off let me say this budget is one of the great opportunities lost. I would have expected two basic things. One, huge investment in health and education. Without health and education you can not have dignity. You can't create jobs. These are basic human rights. Budget for me is the vision document and not merely the balancing of accounting figures. India can not grow with a myopic vision. Second, India needs big time investment in agriculture sector. The story I have been listening from my childhood days starts with Ek tha garib kisan and today also the story in India starts with Ek tha garib Kisan! Thanks folks for talking! I have made up for time lost. I would love to see you again in rediff chat room. Have a good evening in spite of not-so- inspiring budget.
---