Fiat India is eyeing doubling its market share and would introduce a new car and two jeep models this year, a top company official said on Thursday.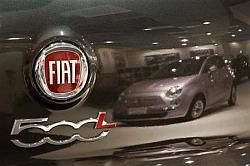 The company will launch a new model - 'Punto Abarth' by June and 'Wrangler' and 'Cherokee' Jeep brands by October in the country, managing director of FIAT Group Automobiles India Pvt Ltd, Enrico Atanasio told reporters.

The total car market size in India is 213,000 units a month. Fiat India presently enjoys a 0.5 per cent market share and plans to double this, he said, adding 'we are confident that we will touch 1 per cent by 2013 end".

A 'B' segment SUV and 'C' segment SUV would be launched in 2014-15, he said adding the 'B' segment is growing, as Indian customer wants better performing product.

While 'Punto Abarth' will be manufactured at the Ranjangaon plant in Maharashtra in both petrol and diesel versions, 'Wrangler' and 'Cherokee', the original Jeep brands, would be imported, he said.

Atanasio said Fiat aims to put in place a wide network of dealerships, around 60-65, by March this year and 110
dealers by December this year.
Presently, there are 20 dealerships, including the one opened in Kochi on Thursday. A new dealership would be opened at Thrissur in the state tomorrow.
He said the company views Kochi as a very strategic market and the inauguration of the exclusive dealership was in accordance with its strategy to capitalise on this potential.
Fiat Group Automobiles India Private Ltd (FGAIPL) is a fully owned subsidiary of Fiat Group Automobiles SpA, Italy.
Incorporated in March 2012, the company will distribute FIAT and Jeep vehicles in India through an independent dealer network.
The company currently sells FIAT Linea and Punto models manufactured by the Tata-Fiat joint venture.