German luxury car maker Audi on Thursday reported 10.5 per cent growth in sales in India during January at 737 units as against 667 units in the same month last year.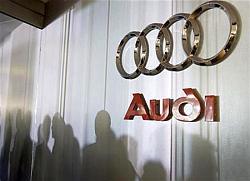 Leading the growth for Audi in India are the Audi Q3, new Audi Q5 and Audi Q7, Audi India said in a statement.

"Our sale of 737 cars in January signifies our growing appeal amidst the luxury car customers. This was possible despite the price hike on our India model range starting January this year," Audi India Head Michael Perschke said.

He said the company has set a sales target of 10,800 units, for 2013 which will be a growth of 20 per cent over 9,003
units sold last year.
Bullish on the Indian market, he said: "Like the global market, Audi is at No 2 and based on our current performance we are well on track to achieve the No 1 position in the luxury car market in India by 2015."
So far this year, the company has launched the new Audi Q5 and the new Audi R8.
"We are constantly enhancing our product line, network growth and creating wider brand awareness. This is creating a larger customer base and is reflecting clearly in our sales," Perschke said.
Audi India plans to expand its network to 34 dealerships by the end of 2013 from its existing 25 centres. The company recently opened new showrooms in Mumbai South and Lucknow.