Rural allocation may touch Rs 1.06 lakh crore
National Rural Livelihoods Mission could see an increase of Rs 3,500 crore
For Pradhan Mantri Gramin Awas Yojana allocation may rise to over Rs 20,000 crore
Sanjeeb Mukherjee/Business Standard reports from New Delhi.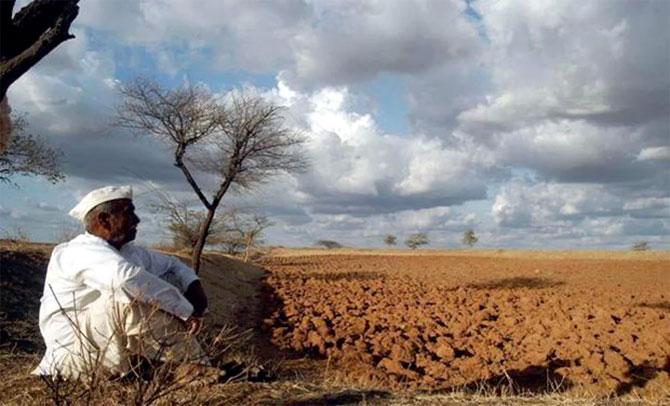 Image: The Centre's continuing rural focus in 2017-18 Budget could also be aimed at making people 'feel good' to lessen the 'pain' of demonetisation. Photograph: PTI Photo

The Union Budget is expected to increase allocation to the ministry of rural development by over 23 per cent to Rs 1.06 lakh crore. The allocation in the Budget Estimates (BE) of 2016-17 was a little over Rs 86,000 crore.
The Budget, likely to be tabled in the first week of February, may also introduce a new scheme to pull the poor in the rural areas out of poverty. The Budget's focus on rural development could lessen the pains of demonetisation in villages.
If things go according to plan, there could be a rise in allocations of all major programmes of the rural development ministry, with Mahatma Gandhi National Rural Employment Guarantee Scheme (MNREGS) topping the list. That apart, officials said a new scheme, likely to be called Mission Antyodaya, could also form part of the Budget.
The Mission Antyodaya has been proposed by the ministry of rural development and is aimed at making 10 million households poverty-free over a period of time. This will be done through addressing all the parameters of poverty and constantly measuring them on a scale of 36 indices.
For the flagship MNREGS, officials said an extra Rs 1,500-3,500 crore over the 2016-17 BE of Rs 38,500 crore could be needed in 2017-18, if there are no arrears to be paid.
In 2016-17, though on paper, MNREGS got one of the highest allocations since its inception, first through budgetary allocation and thereafter through supplementary demands for grants — much of it amounting to almost Rs 12,000 crore was spent on servicing last year's dues.
Including the previous year's dues, the total allocation for MNREGS in 2016-17 stood at Rs 47,500 crore, after the supplementary demand for grants.
For the other big three programmes for rural development, officials said the National Rural Livelihoods Mission could see an increase of Rs 3,500 crore (Rs 35 billion) in its Budget in 2017-18, from the Rs 3,000 crore (Rs 30 billion) allocated in 2016-17.
The Centre has leveraged banks for a loan of Rs 43,000 crore (Rs 430 billion) through Mission Antyodaya for improving livelihoods during the year, which was outside the budgetary allocations.
For the ambitious Pradhan Mantri Gramin Awas Yojana (PMGAY), under which the Centre plans to build around 10 million houses in the rural areas in the next two years, officials said an allocation in 2017-18 Budget could rise to over Rs 20,000 crore (Rs 200 billion), from the Rs 15,000 crore (Rs 150 billion) allocated in 2016-17 BE, if the finance ministry plays ball.
The Centre had arranged for another Rs 7,000 crore (Rs 70 billion) for PMGAY through extra budgetary resources from Nabard, or National Bank for Agriculture and Rural Development, for quick completion of the scheme.
The marquee rural roads scheme is expected to continue to get its annual allocation of Rs 19,000 crore (Rs 190 billion), which, when added with states' share, raised the total fund for the programme to Rs 27,000 crore (Rs 270 billion) per annum.
The Centre has already committed to providing Rs 81,000 crore or Rs 810 billion) (including states' share) to the rural roads programme over the next three years to reach all the unconnected habitations, including those that have a population of less than 500, in the next three years.
The Centre's continuing rural focus in 2017-18 Budget, many officials feel, could also be aimed at making people 'feel good' to lessen the 'pain' of demonetisation.
Some officials said the additional tax receipts coming in from the crackdown on black money over the coming financial year will enable the government to ramp up spending and actually present a populist Budget.
The Centre had also hoped to get a one-time windfall gain from demonetisation, with notes worth Rs 3 lakh crore not expected to be deposited with banks. But, with nearly Rs 12 lakh crore coming into banks as deposits, that hope is also evaporating.
Senior policymakers say they'll be able to spend on the programmes and sectors, which are connected to the poor and rural areas. Tax sops to the salaried classes could also be offered, they add, as tax brackets are under review ahead of the Budget.