The record of other prime ministers too shows how much can change when a prime minister is faced with the two-year challenge, says T N Ninan.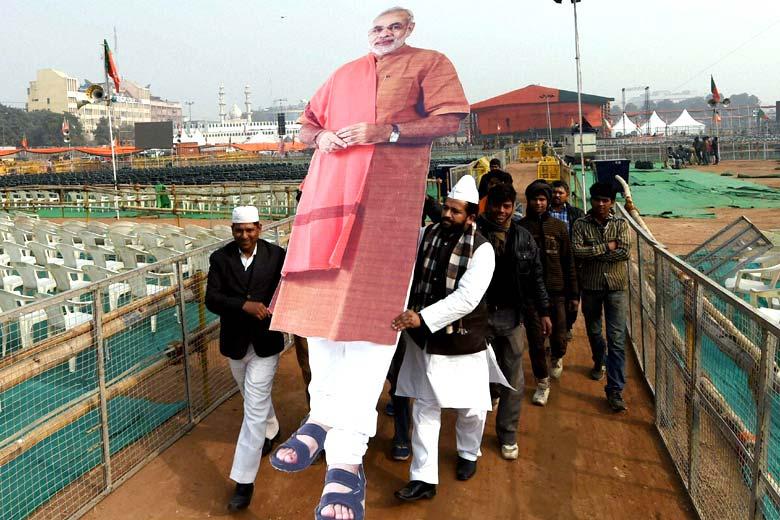 Image: Prime Minister Narendra Modi to turn pro-poor in Budget. Photograph: PTI
Has Narendra Modi re-set his political sights? He talks now of the poor, not the neo-middle class that featured in his campaign manifesto and in Arun Jaitley's first Budget.

When railway finances are in poor shape, he decides to not raise railway fares - though fares cover barely two-thirds of cost. He has done a dramatic about-term on the rural employment guarantee programme, which he no longer damns as a monument to Congress failures.

The promise of minimum government has gone out the window. And he sounded defensive, even beleaguered, when he spoke the other day of conspiracies to "finish" him - conspiracies by civil society activists, if you please, while he (ie Mr Modi) was busy working for the people.
To many observers, that sounded like Indira Gandhi who campaigned in 1971 by saying: "They say 'Indira hatao', I say 'Garibi hatao'."

Though her economic policies did little to remove poverty, she is remembered by the poor as someone who stood for and by them. It is beginning to look like Mr Modi thinks that is not a bad place to be.

Typically, the arrival of "Modi Mark II" is to be marked by a kisan maha sammelan in Delhi, with 100,000 farmers to attend.

So the nervous question in business circles is: will Mr Modi, less than two years into office and wounded by Rahul Gandhi's "suit-boot" jibe, use the Budget to announce his new political positioning?
If he does, there will be parallels with P V Narasimha Rao, who turned his back on economic reforms in 1993, two years after launching them, because of electoral reverses in two southern states.

Soon Rao was to announce freebies on Independence Day, while Manmohan Singh as finance minister grumbled in an interview that you could not spend your way to prosperity.

The record of other prime ministers too shows how much can change when a prime minister is faced with the two-year challenge.

Elected to the Lok Sabha in 1967, Indira Gandhi faced a political challenge in 1969 and wrested the initiative only by splitting the Congress and launching on a reckless string of nationalisations and ruinous tax measures.

Re-elected in 1971, she was faced with JP's anti-corruption movement by 1973, and eventually imposed Emergency rule.

Elected a third time in 1980, she had to confront Bhindranwale's "Dharam Yudh Morcha" in 1982, leading to the Punjab insurgency that eventually cost her her life.
When it came to Rajiv Gandhi, the Bofors scandal hit him shortly after he completed two years, in 1987; he would never recover the political initiative.

As for Mr Vajpayee, re-elected in 1999, the challenge came midway into his term, from the Rashtriya Swayamsevak Sangh boss K S Sudarshan.

Their power play was on the swadeshi issue; Mr Vajpayee stood his ground. And Manmohan Singh, two years into his second term, was hit in the solar plexus by the government's auditor; his government remained paralysed till its term ran out.
Mr Modi faces no real political challenge or crisis, least of all because of civil society activists. But he recognises that some of those whom he enthused in 2014 are now a disappointed lot, even as successive droughts have caused severe distress in the countryside.

While it is entirely right that he should address that urgently, the danger with "Modi Mark II" is that he will focus on giveaways rather than the tougher task of boosting productivity (and therefore farm incomes).

In a search for a more secure political constituency, Mr Modi might even be tempted to revert to the failed policies of Indira's time: trade protectionism, redistributive taxes that encourage evasion, and policies that favour government-funded investments rather than private sector recovery. One hopes not. We will know on Monday.