Yechury said the aim should be how to protect our economy from slowdown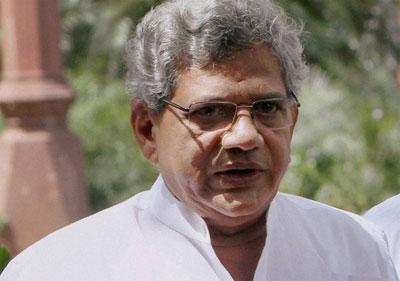 Picking flaws in the Union Budget 2016-17, CPI(M) general secretary Sitaram Yechury on Monday said it lacked vision and focused more on foreign capital than the people.
It also burdened commoners by way of "inflationary" indirect taxation, he said.
"As with the previous two budgets, this budget of the Modi govt is again full of hollow promises and slogans. The numbers just don't add up.
"FM says Budget is about fulfilling 'desires & dreams' but it has no vision. The dead certainty from it is of a shrinking economy," Yechury said in a series of tweets.
Later speaking at a post-budget presser here, the CPI(M) leader said the Union Budget targets foreign capital more than the people of the country.
"Budget will not kick start the economy. It is appealing to international capital more than meeting the requirement of the people. Living standards of the people is bound to fall further," he said.
Yechury said the aim should be how to protect our economy from slowdown.
"We have adequate resources which can improve growth. Our objective should be to protect ourselves from the contraction," he said.
Highlighting farmers' plight, he said, "There was not a word on minimum support price for farmers. Our farmers are committing suicide. There has been 26 per cent increase in farmers' suicide since the NDA assumed power."
On the farm sector, he said, "There is a negative growth of 2 per cent in agriculture. Farmers are not getting the cost of the product."
Yechury also expressed concern over the inability of the Modi government to reduce oil prices.
"There is a fall in international oil prices by 80 per cent since the Modi government came to power. However, the domestic oil price remains the same. So, where has the money gone?"
The CPI(M) leader noted that the government has reduced allocation on many items like fertiliser, Integrated Child Development Services (ICDS) and minority development.
The Rajya Sabha member observed that the schemes announced or supported by the Union finance minister in the Budget were the ones opposed by Prime Minister Narendra Modi before elections, adding increasing cess will hurt common man.
"Increasing cess hurts the common man, with indirect tax collections proposed to be up by Rs 20,600 cr. Direct tax proposals are down by Rs 1,060 cr. This means more burden on common people as indirect taxes are inflationary. So there will be no expansion in domestic demand," he added.