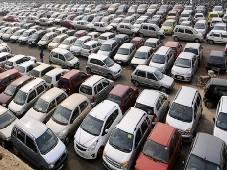 Despite sluggish sales in the domestic automobile market, the average size of auto loans has increased by a robust 20 per cent, according to a study by Credit Information Bureau (India) Limited.

This indicates consumers' preference for more premium vehicles.

The average size of auto loans stood at Rs 512,000 in the third quarter of 2012, compared to Rs 425,000 in the year-ago period.

While metros recorded average ticket size of Rs 606,000 for auto loans in the period, the average size in tier-II and tier-III cities stood at Rs 505,000 and Rs 465,000, respectively.

The Cibil study also reveals auto loans have emerged as the most enquired product in terms of credit activity led by demand, particularly in tier-III cities.

The number of enquiries made to Cibil for validating credit worthiness of consumers for automobile purchases increased by 28 per cent in the fourth quarter of 2012, compared to the corresponding period in 2011.

Arun Thukral, managing director, Cibil, said, "Post the 2008 crisis, banks and financial institutions have become more cautious and have reduced their exposure to unsecure debt such as credit cards and personal loans.

They are instead looking strongly at secured loans for automobiles, two wheelers and housing."

Consequently, while the share of auto loans in credit enquiries has increased to 20 per cent in Q4 2012 from 11 per cent in Q4 2008, the share of credit cards has decreased to 18 per cent from 40 per cent in the same period.

Interestingly, despite enquiries growing in strong double-digits, the number of passenger vehicles sold rose at a much slower pace by 11 per cent to 681,000 units in the last quarter of 2012.

Thukral
explains, "Cibil assesses credit worthiness of new loan applications, but the decision to grant a loan rests with banks and financial institutions.
"The number of rejections may have gone up, resulting in reduced sales as banks have tightened their credit policies post the financial crisis in 2008."
A detailed study of the data shared by Cibil also shows the number of enquiries for auto loans particularly went up from tier-III cities in the first half of 2012, compared to the year-ago period.
The share of tier-III cities in all auto loan enquiries increased to 57 per cent in H1 2012 (from 50 per cent in H1 2010).
The increase in the share of enquiries for auto loans from tier-III cities coincides with delinquency rates in such places standing at the highest at 3.2 per cent as compared to other cities.
The share of tier-I and tier-II cities in overall auto loans' enquiries, in the meantime, declined to 29 per cent (from 35 per cent) and 14 per cent (from 16 per cent), respectively in the same period.
Among the metros, the Delhi-National Capital Region (NCR) continued to lead the pack with 34 per cent of all enquiries coming in followed by Mumbai-Thane (17 per cent) and Bangalore (11 per cent).
Notably, most applications for auto loans come from youngsters.
As much as 42 per cent of consumers applying for auto loans aged less than 35 years of age in Q3, 2012, compared to 33 per cent in Q1 2011.