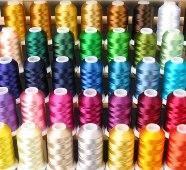 Background of Indian Viscose Rayon Industry

1. Cellulosic Origin: Textile Fibres may be categorized as Synthetics (Source: Petroleum) and Cellulosic (Source: Natural). Cellulosic Fibres include Cotton, Viscose Rayon, Jute, Linen etc.

Viscose Rayon is a regenerated cellulosic fibre with properties similar to cotton but having a higher comfort factor than even cotton.

2. Agricultural Origin: Being a Cellulosic Fibre, Viscose has also shares agricultural origin.

Viscose is a product manufactured through value-addition of Wood Pulp.

This wood is from certain specific species and commonly referred to as RGWP (Rayon Grade Wood Pulp).

However, Viscose Staple Fibre (HS Code 5504.1000) Viscose Filament Yarn (VFY) (HS Code 5403.1000) uses much lesser natural resource like land and water.

3. Employment Potential: The manufacture of Viscose Rayon is a very labour intensive process.

For e.g. a Filament Plant of Viscose employs 20 times more personnel than an equal capacity Polyester plant.

Thus this industry has the potential for employment in (1) manufacturing locations, (2) for farmers harvesting Rayon Wood Plantations in the very rural areas and (3) across user-industries, through a large number of Handloom and Power-loom weavers/knitters/processing units & garment factories across India.

4. Contributing to Textile Industry: With the growth in consumer preference for comfort, fashion wear and casuals, viscose is emerging as the fibre of choice.

This provides opportunities for the Indian Textile value chain to grow and supply to international brands, earning foreign exchange for both themselves and the country.

E.g. China grew its textile industry by developing downstream value chain in MMF (man-made fibres)

5. Role of Viscose Rayon: Manmade fibres contribute to 67% of global fibre basket with Cotton at 31%. The shift is even more prevalent with the intensifying issues of cotton shortage and price volatility.

Thus, Viscose is considered the best alternative and is fast growing. China has focused on developing domestic market with Viscose so as to protect its population from abnormal price and shortage issues of cotton.

However, in India, the scenario is reverse with almost 2/3rds of consumption into cotton.

6. Current Growth Status of Indian Viscose Rayon Industry. Over the last 10 years, the Indian VSF industry has grown only at a minuscule rate of 1% as against nearly 10-15% in other major textile producing countries like China, Turkey, Indonesia, etc.

As regards, the Indian VFY Industry, 3 out of 6 VFY plants have shut down during the same period reducing our capacity by half, as against China doubling their capacities to 2,35,000 MT from 95,000 MT levels.

Therefore, it is obvious that India is losing out on the opportunities in the growing market.

Key concerns in exploiting growth opportunity

Reduction in Excise Duty and Bringing it on Par with Cotton:

Viscose Fibre/Filament is an engineered cellulosic fibre of natural origin, properties at par with cotton yet lower natural resource utilization.

However, Viscose and other made Man Made Fiber in our country attract an Excise Duty of 10.3% whereas for the other Natural Fibers there is NIL excise duty.

A study of the major textile countries indicates that all Man Made and Natural Fiber attract similar excise duty.

There is no preferential duty for any Textile fiber, even in other key cotton producing countries like China and Pakistan.
It is evident from the table above that in keeping with the practice followed by the major textile countries, the duties on Man Made Fiber should be same as for cotton i. e. NIL.
This would result in promoting a Fiber Neutral Fiscal Policy, a mission set in the National Fibre Policy by the Textile Ministry, Government of India and help in improving bringing Indian fibre basket balance in line with global.
Retention of S.A.D in lieu of Sales Tax:
The Special Additional Duty in lieu of Sales Tax should be retained for providing a level playing ground and maintaining competitiveness for the domestic textile industry in the home market.
| | | | | | | | | |
| --- | --- | --- | --- | --- | --- | --- | --- | --- |
| Parameters |    India | China | Pakis-tan | Sri Lanka | Indo-nesia | Thailand | Turkey | Observation |
| Cotton | Nil | 13% | Nil | 20% | 10% | 7% |   8% | Only Indian |
| MMF | 10% | 17% | Nil | 20% | 10% | 7% | 8% | excise duty           differentiates |
| Cotton Yarn | Nil | 17% | Nil | 20% | 10% | 7% | 8% | between Cotton & |
| MMF Yarn | 10% | 17% | Nil | 20% | 10% | 7% | 8% | MMF! |
Our submission to the Government of India:
 We would like to submit the following for your kind consideration:
 To make Excise Duty on VSF (HS Code 5504.1000) and VFY(HS Code 5403.1000) to NIL from present level of 10.3%.
To ensure retention of S.A.D in lieu of Sales Tax.
The writer is secretary general,Association of Man-made Fibre Industry of India