Alloys steel (including stainless steel) is the steel, which is produced with intended amount of one or more alloying elements in specified proportions to impart specific physical, mechanical, metallurgical and electrical properties. The common alloying elements are Manganese, Silicon, Nickel, lead, copper, Chromium, Tungsten, Molybdenum, Niobium and Vanadium etc.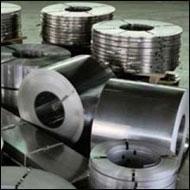 The common examples of alloy steel are Stain less steel, Silicon –Electrical steel and High Speed Steel.
Stainless steel essentially contains chromium (normally more than 10.5% with or without nickel or other alloying elements). As the name implies, stainless steel resist staining or corrosion and maintains strength at high temperatures. This kind of steel is widely used in utensils, architectures and in industrial applications viz automotive and food processing products as well as medical & health equipment.
Commonly used grades of Stain less Steel (SS)

Type 304

Chrome -Nickel Austenitic SS accounting for more than half of SS produced in the world.18: 8 SS used for utensils are the most common example.

Type 316

Chrome-Nickel (Austenitic) SS containing 2-3% Molybdenum, intended for specific industrial use.

Type410

Plain Chromium (Martensitic) SS with exceptional strength. It is a low cost, heat treatable grade suitable for non-corrosive applications

Type 430

Plain Chrome (Ferritic) SS, offering general purpose corrosion resistance, often in decorative applications

Type 201/202 etc

Low Nickel Austenitic SS containing 2-5% Nickel. Used as cheaper substitute of Type 304 grade for production of utensils
Silicon Electrical steel usually contains 0.6-6% silicon and exhibits certain magnetic properties, which make it suitable for use in transformers, power generators and electric motors.
Categories of Silicon -Electrical steel

CRGO

Cold Rolled Grain Oriented Silicon-electrical steel sheets /strips, normally recommended fro use in transformers and generators

CRNO/CRNGO

Cold Rolled Non-Grain Oriented Silicon -electrical steel sheets/strips, normally recommended fro use in rotating machines such as electric motors
High Speed steel contains tungsten, vanadium, chromium, cobalt and other metals. It is used for manufacturing of cutting tools.
The alloy steel constitutes only approximately 10% of the overall annual steel production in terms of quantity, its share is approximately 20% in terms of value since the products are substantially value added for specific end users.
However, during the period April-Jan 2012, the saleable production of alloy steel constituted about 7% of the total finished steel output, apparent consumption is about 7% to the total steel consumption, imports is about 22% to the total steel imports while exports is about 10% to the total steel exports.
As per the Joint Plant Committee data, the production of alloy steel in the ten months ended of FY2012, increased by 17% to 4406 thousand metric tonnes on y-o-y basis. But due to internal consumption of 277 Thousand tonnes, the saleable production of alloy steel improved by 19% to 4129 thousand metric tonnes.
Imports of alloy steel increased by sharp 65% to 1228 thousand metric tonnes while the exports remained flat at 334 thousand metric tonnes. Hence the availability increased by 30% and the apparent consumption increased by 35% to 3950 thousand metric tonnes.
The custom duty on import of alloy steel in India, till some time back, used to be 50% higher, than that on merchant steel products. Alloy steel was more at par with automotive components where import duties are much higher at 10%. However, in a major departure from the earlier norm, all categories of steel are now at 5% basic import duty anomaly, which is disadvantageous to the alloy steel sector.
The growth of the alloy steel is mainly dependent on the development of the automobile and auto component industry. Amid 2004-05 and 2007-08, the demand for alloy steel was growing at 15% a year. This encouraged the existing alloy steel units to go for substantial expansion and several new players also entered the industry. As a result, the production capacity increased from 6.5 million tonnes (mt) to about 11.0 mt between 2007-08 and 2010-11.But, due to the global economic downturn in 2008-09, the alloy steel sector was severely impacted resulting into an underutilization of the capacity which is now only around 58-60% as against 80-85% for general steel.
Moreover, the nickel required for producing the alloy /stain less steels is not available indigenously. The most common stainless steels contain 8-10% nickel, 18% chromium and balance iron. The present custom duty on all three categories of nickels viz Unwrought Nickel, Nickel Oxide and Ferro Nickel is 2.5%.
Industry expectations
Import Duty On Alloy & Stainless Steel

Sr.No.

Item

HSN No.

Current Duty %

Proposed Duty % 2012-13

1

Bars and rods, hot rolled in irregularly wound coils of stainless steel

7221

5

7.5

2

Other bars and rods of stainless steel; angles, shapes and sections of stainless steel

7222

5

7.5

3

Bars and rods, hot rolled in irregularly wound coils of other alloy steel

7227

5

7.5

4

Other bars and rods of other alloy steel; angles, shapes and sections of other alloy steel; Hollow drill bars and rods, of alloy or non-alloy steel

7228

5

7.5
Import Duty On inputs For Manufacture Of Stainless Steel

Sr.No.

Item

HSN No.

Current Duty % 2011-12

Proposed Duty % 2012-13

1

Unwrought Nickel, Nickel not alloyed

7502.1

2.5

Nil

2

Nickel Oxide Sinter and other Intermediate products of Nickel

7501.2

2.5

Nil

3

Ferro Nickel

7202.6

2.5

Nil
Alloy steel producers association– representing alloy and stain less steel (long products) sector of the steel industry recommends the following proposals for the Budget 2012-13
Increase the basic custom duty from the existing 5% to at least 7.50% (if not 10%).
Reduce the duty on all the three forms of Nickel (Unwrought Nickel, Nickel Oxide and Ferro Nickel) form existing 2.5% to 0%.
Stocks to watch: Adhunik Metaliks, Bhushan Power & Steel, Jai Balaji Industries, Jindal steel, Jayaswal Neco, Mukand steel.
Analyst Expectations:
The government is less likely to hike basic Custom duty from the existing 5% to 7.5%. India is one of the fastest growing stainless steel and alloy steel market, and would continue to be so in the medium term.
Outlook
Hike in import duty of alloy steel from 5% to 7.5% will have twin benefits for the domestic players (a) better price realizations based on the higher landed cost of imports and (b) increase in the domestic production capacity utilization. Similarly, if there is cut in customs duty on inputs including three categories of Nickel from 2.5% to Nil, it would improve the margins of the domestic players. It remains to be seen whether the Union Budget 2012-13 I adding further sheen to the Indian alloy / stainless steel sector.
The various upcoming transportation and infrastructure projects can add sheen to the domestic alloy steel, including stain less steel demand.  As a result, the domestic alloy steel demand can grow at a CAGR of around 8.1% between FY2011-FY2013.  But the Union Budget 2012-13 is not likely to directly benefit the alloy steel sector.
Balance Sheet for Alloy Steel

 

April-Jan'12

April-Jan'11

Var. (%)

SAIL (Main Producer)

223

232

-4

JSWL (Major Producer)

762

360

112

Others

3421

3151

9

Total production

4406

3743

18

Less: IPT/Own Consumption

277

296

-6

Total Production for Sale

4129

3470

19

Imports

1228

743

65

Exports

334

335

0

Availability

5023

3878

30

Variation in stock

2

6

-67

Apparent Consumption

3950

2918

35

Number in Thousand Metric Tonnes

Source: Joint Plant Committee