In order to promote India as a major tourism destination, states need to complement Centre's actions by rationalising luxury taxes and allowing easy clearance to hotel projects.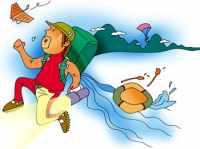 The survey said states need to set up boards similar to the Hospitality Development and Promotion Board (HDPB) set up by the Centre, in order to provide single-window clearance to hotel projects and development of hospitality infrastructure.

"A lot more needs to be done to make India a major tourist destination...Government of India has requested the states to work towards rationality and uniformity of taxes so as to make their destinations more competitive," it said.

States impose luxury tax ranging from 5 per cent to 12.5 per cent and in some cases, the tax is applicable on printed room rates whereas actual rates are much lower, the survey noted.

"They (states) have been also requested to exempt room tariff below Rs 2,500 from luxury tax and charge luxury tax at a uniform rate of 4 per cent on actual tariff," it said.

Talking about the progress made on setting up of boards similar to the HDPB, the survey said so far Mizoram, Manipur, and Maharashtra have taken initiatives.

Other measures to be
taken to promote India include rationalising the fees for entry to monuments, focusing on safety of tourists and promoting wellness tourism, according to the survey.
Despite recessionary trends in Europe and America, foreign tourist arrivals during 2011 were 6.29 million, up 8.9 per cent over 2010 and foreign exchange earnings in 2011 were Rs 77,591 crore (Rs 775.91 billion), growth of 19.6 per cent, it said.
"The growth in tourist inflows in 2012-13 and 2013-14 is likely to be driven by tourists from regions other than North America and Western Europe," the survey said.
The hotel industry reported sales growth of 14.3 per cent in 2010-11 and is expected to maintain this level in 2011-12.
Profit after tax is expected to grow at 36.2 per cent in 2011-12 and 26.4 per cent by 2012-13.
As on 31 December 2011, there were 2,895 classified hotels having a capacity of over 1.29 lakh rooms in the country.
The share of the hotel and restaurant sector in overall economy increased from 1.46 per cent in 2004-05 to 1.53 per cent in 2008-09 and then decreased to 1.46 per cent in 2010–11.
Union Budget 2012-13: Complete coverage