The steel ministry has recommended 10 per cent import duty on the alloy in the forthcoming Budget to protect the interest of the domestic industry, sources said.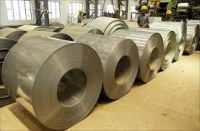 "The Steel Ministry has recommended doubling of import duty to 10 per cent on steel in the Budget in view of the growing threat of Chinese imports into India. It is aimed at protecting the domestic industry," the sources in the steel ministry said.

Steel imports during April-January were down marginally at 5.59 million tonnes, against 5.62 million tonnes in the year ago period. The domestic consumption grew by 5.5 per cent to 57.24 million tonnes in the same period.

Finance Minister Pranab Mukherjee will table the Budget for 2012-13 on March 16.

The marginal decline in imports during the April-January period of the current
fiscal does not truly reflect the ground reality, sources said.
"The threat of growing exports to India from countries like China, Japan, Korea, Russia and Brazil is looming large given the current global economic scenario," they added.
Sources said the steel ministry's communication to its finance counterpart went after a spate of recommendations from major domestic steel makers like Tata Steel, JSW Steel and Essat Steel among others.
"The domestic industry fears huge exports from China in the face of large surplus of steel in Asia's largest economy. Their fears are not totally unfounded," they said without giving further details.
China, which accounts for nearly half of the global steel production, stimulates exports by giving an export incentive of nine per cent on various steel products.
The hike in import duty would also help the government to generate additional revenue.
© Copyright 2023 PTI. All rights reserved. Republication or redistribution of PTI content, including by framing or similar means, is expressly prohibited without the prior written consent.