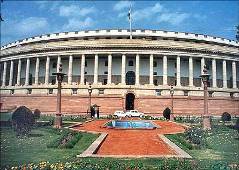 Holding the Centre responsible for spiralling inflation, the Opposition states on Wednesday demanded a reduction in taxes on crude oil, petrol and diesel to check price rise.

"Price rise is not a subject of states. It is totally Centre's subject. We are ready to sit with the Centre and arrive at solutions. Inflation is high because of Centre's export-import policy", Uttarakhand Finance Minister Ramesh Pokhariyal Nishank told reporters.

He met Union Finance Minister Pranab Mukherjee on the sidelines of a pre-Budget consultation meeting of states.

Bihar's Deputy Chief Minister and Finance Minister Sushil Modi wanted the Centre to reduce duties on petroleum products to tame rising inflation which soared to 8.43 per cent in December, up from 7.45 per cent a month ago.

Food inflation had soared to a year's high of 18.32 per cent for the week ending December 25 before declining to 16.91 per cent in the subsequent week.

"Inflation, particularly in food and primary articles . . . fuelled by petrol and diesel increases has been a particular worry for all of us.

"While price increase due to international price movements is to some extent understandable, the commensurate increase in taxes, which are levied ad valorem can be avoided", Modi said.

He further said that five per cent import duty on crude oil should be abolished and excise should be levied at flat rate instead of the current practice of imposing taxes on ad valorem basis.
Delhi Finance Minister A K Walia said, "Vegetables, pulses have already been exempted from value added tax) in Delhi. Some states have suggested that a fixed amount of excise should be levied on petrol."

Earlier, Centre increased price of petrol by about Rs 2.50 a litre following the rise in price of crude oil in the international market.

Haryana Finance Minister Ajay Singh Yadav said that states needed to work in coordination to deal with the problem of hoarding.

"There are bigger states like Madhya Pradesh, Karnataka and Himachal Pradesh. We have to work in co-ordination with Centre to remove the problems of hoarding. The Bharatiya Janaya Party has been making it a political issue," he added.