The government on Monday proposed imposition of 5 per cent service tax on treatment in private hospitals, paid either by individuals, insurance companies or firms, a move described as "detrimental" by industry players.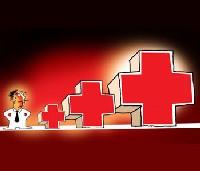 Bringing about a change in service tax introduced in the last year's Budget under which payment for treatment by health insurance firms or business houses attracted the levy, Finance Minister Pranab Mukherjee brought payments by individuals also under the net from the next fiscal.

Presenting the Budget for 2011-12, Mukherjee said service tax imposed on health check up or treatment last year had resulted in differential treatment between persons who make payments themselves and others where payments were made by an insurance firm or a business entity.

"I (therefore) propose to replace it with a tax on all services provided by hospitals with 25 or more beds that have the facility of central air-conditioning," he said.

He further added, "Though the tax is on high-end treatment, I propose to sweeten the pill by an abatement of 50 per cent so that the actual burden is kept at 5 per cent of the value of service."

Mukherjee also said the same levy as well as abatement would be applicable to diagnostic tests of all kinds. "However, all government hospitals shall be outside this levy," he said.

Reacting to the move, Apollo Hospitals Executive Director-Operations Sangita Reddy said that bringing the hospitals sector under services tax "is a detrimental move as the burden will be passed to the consumer".

"A majority of the consumers pay from their own pocket as only 14 per cent are covered by insurance. Adding service tax will be a heavy burden on them," she added.

Expressing similar sentiments, Super Religare Laboratories CEO Sanjeev K Chaudhry said, "While the burden of this levy goes to the customers and patients, the anomaly is that the services of accredited and quality rated labs will become more expensive in eyes of the consumers relative to the small street labs."

Batra Hospitals CEO Sanjeev Bagai also criticised the move saying: "It is not correct to levy taxes on the hospitals as they are providing accessible, accredited and affordable world class healthcare at subsidised rates and any fresh burden will ultimately have to be passed on to the patients."

He further added, "We would urge the government to recognise that quality services in healthcare entail cost and the industry needs to be rewarded in some form for offering quality services."

Moreover, in the Budget the Finance Minister also proposed to provide outright concession to factory-built ambulances in place of the existing refund-based concession from excise duty.

"Sooner or later all services will have to get used to pay the service tax. As it is when the uniform Goods and Services Tax will be implemented may be from next year, all services will come under it. In fact the FM has removed an anomaly. The actual burden is only 5 per cent..," KPMG Executive Director Pharma and Healthcare Hitesh Gajaria said.

© Copyright 2020 PTI. All rights reserved. Republication or redistribution of PTI content, including by framing or similar means, is expressly prohibited without the prior written consent.