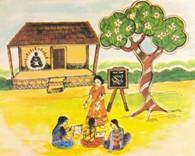 Giving in to demands from Anganwadi workers, the government on Monday said it will double their remuneration while a special development fund for women self-help groups was also announced as part of its initiatives for the fair sex.
Presenting the Union budget, Finance Minister Pranab Mukherjee proposed an allocation of Rs 12,733 crore for the Women and Child Development Ministry, an increase of 15 per cent over last year's budget of Rs 11,070.5 crore.
As part of its gender budgeting exercise, the government has proposed expenditure of 78, 251.02 crore -- including 20,548.35 crore for 100 per cent women-specific programmes across all departments and Rs 57,702.67 crore for 30 per cent women-specific programmes.
The hike in their remuneration, to be effective from April 1, will benefit around 22 lakh Anganwadi workers and helpers, the minister said.
"The Anganwadi workers and Anganwadi helpers are the backbone of Integrated Child Development Services Scheme. I am happy to announce an increase in the remuneration of Anganwadi workers from Rs 1,500 per month to Rs 3,000 per month and for Anganwadi helpers from Rs 750 per month to Rs 1,500 per month," Mukherjee said.
Anganwadi workers and helpers from all over the country staged a demonstration here recently seeking enhancement of their remuneration, among other demands.
Mukherjee also proposed the creation of a 'Women's SHGs' Development Fund' with a corpus of Rs 500 crore "to empower women and promote their self-help groups."
The National Nutrition Mission, which was set up in 2003, got a big boost with allocation being increased from Rs one crore to Rs 90 crore.