The Indian textile industry has an overwhelming presence in economic life of the country. As per the data in FY09, it constitutes 14% on Industrial production, 4% to GDP and 17% to country's export earnings. The textiles industry is second largest provider of employment after agriculture.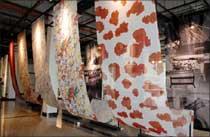 The last two years have been a very difficult period for the textile industry, primarily because of exchange fluctuations and economic slowdown. After a bad patch that lasted for 2 years, the textiles industry of India is at the threshold of a recovery.
With a gradual recovery in the global economy, there are indications that textile industry can return to the growth track. However, this will be contingent upon a helpful policy framework being provided for the sector.
CITI recommendations
Confederation of Indian Textile Industry (CITI) - the apex chamber of the textile and allied industries of India, covering the entire textile value chain from yarn to garments and also textile machinery has hence put forth the industry suggestions for the Government for its perusal in forthcoming Union Budget 2010.
The Industry requests Government to remove mandatory excise duty of 8% on Man Made Fiber so as to have level playing field and utilization of man-made fibers.
As the domestic industry is supplying machinery of global standards only in the case of ring frames for spinning, that too excluding ring frames for compact spinning; textile industry has to import nearly 70% of the textile machinery and 100% of garment machinery. In such circumstances Industry suggests abolition of excise and customs duty on all machinery including ring frames for compact spinning but excluding other ring frames.
The textile industry suggests exemption of textile industry from customs and excise duties for all liquid fuels used by textile and clothing units for captive power generation, on the back of acute power shortage in most of the textile producing areas of the country.
As a one-time measure, the industry seeks current accumulated Cenvat credit of all textile and clothing units may be refunded in cash in FY11.
The industry urges government to fund TUFS backlog amounting to Rs 2000 crore (Rs 20 billion) up to 31 December 09 in the revised estimates for the current year. Further the industry has also suggests for a provision of Rs 3000 crore (Rs 30 billion) of TUFS loans for meeting the requirements during January-December 2010.
In order to upgrade the competitiveness of textile exports, it is requested that export credit for textile and clothing units may be provided at a uniform rate of 5% interest, both for pre-shipment and post-shipment credit.
As the textile industry has also been rolling under spike in the raw material cost like Cotton, polyester etc, working Capital for purchase of cotton may be provided to mills at 7% interest as against 10% margin money and for a period of 9 months.
On the Service Taxes front, the industry pleads Government to exempt all export related services to be exempted from service charges. The industry also requests the government, to treat service tax paid by textile units for erection and commission as well as repairs and maintenance of windmills as tax paid on input services under Cenvat Credit Rules.
FICCI recommendations
On the other hand Federation of Indian Chambers of Commerce & Industry (FICCI), the largest apex business organization body; on behalf of textile industry has demanded the following:
FICCI recommends equality in excise duty structure between Synthetic Fiber and Cotton i.e. 4 % or optional route to be put in place for ensuring a level playing field. Thus excise duty on all raw materials / consumables of synthetic fibers and yarns are expected to be slashed to 4% from current 8%. Also excise duty on the raw material like PTA is 8% can also be brought down to avoid inversion.
It has also recommended excise duty on Furnace oil should be brought down to 4%, as furnace oil is extensively used by textile manufacturing units for running their DG sets for augmenting their power requirements.
On the customs duty front, the apex body has asked for slash in the customs duty on all textile machinery and their components to 5%.
The Association seeks for 14% customs duty on technical textiles so as to encourage the indigenous industry.
FICCI has requested for removal of basic customs duty on specialty yarn and other yarns, which were not manufactured in India.
The association has asked to extend 5% concessional duty to Automatic shuttle less looms and also value adding machines. In addition to the above, duty on Machineries required to manufacture Technical Textiles should be nil.
The spare parts for manufacture of textile machinery specified in List 30, 31 and 32 should be permitted to be imported under the Concessional rate of 5% customs duty.
CII Recommendations
Confederation of Indian Industries on behalf of textile industry has recommended the Government for the following:
CII seeks reduction of customs duty from 5% to NIL on imported components of shuttleless looms. Adding to the above, the association has asked to reduce excise duty from 8% to 4% on components of 40 specified textiles machinery and equipment; to bring at par with the excise duty applicable on complete machines/ equipment.
CII has suggested to reduce customs duty from 7.5% to 5% on spin finish oil, which will is a vital in manufacturing of polyester fibers and yarns.
It has also recommended reducing customs duty on Nylon 6, 12 Chips from 10% to 7.5%.
Analyst expectations
As against the Global trend of MMF constituting nearly 62% of the total production, MMF in India constitutes just 15-20% of the total production. The MMF industry is lacking a level ground in India to compete with the cotton. So a plash in the excise duty on MMF would boost the growth trajectory of the MMF sector in general and polyester producers in particular.
However, care should be taken that if excise duty on MMF is cut, similar cut should be effected on inputs like PTA, MEG, DMT, Caprolactam, Acrylonitrile etc.  Otherwise, it will only aggravate the situation for MMF producers with under recovery of excise duties (as the excise duty on finished products (fibres) will be less than on the inputs!).
On the other hand, cut in the customs duty on textile machinery would be helpful for the textile industry to go for some additional capex and improve the technology.
Companies to watch
Vardhman Textiles, RSWM, Aditya Birla Nuvo, Alok Industries, Indorama Synthetics, Raymond etc.
Outlook
After Global economic melt down, textile industry has been in the recovery track and has been gaining the back the lost luster, despite higher raw material prices. At a time when the country is expecting hike in excise duties, MMF is the only major sector where the players are seeking a cut in excise duties.  If done, this will provide much needed level playing field for the Indian MMF sector.
Also, the cost of production in India is relatively higher than frontline players like China, Bangladesh etc, partly due to higher power costs.  This can be partly addressed if excise and customs duty on liquid fuels are removed / reduced. The players are also seeking one time refund of accumulated Cenvat credit of all textile and clothing units, rescheduling of loans for all textile and clothing units to improve liquidity in the industry.
The industry seeks payment of arrears of TUFS and also for higher provision for TUFS for calendar year 2010.  The buoyancy in yarn prices and better domestic demand and improving global demand together augurs well for the Indian textile sector.
What do you expect from the forthcoming Budget for 2010-11? Tell us!