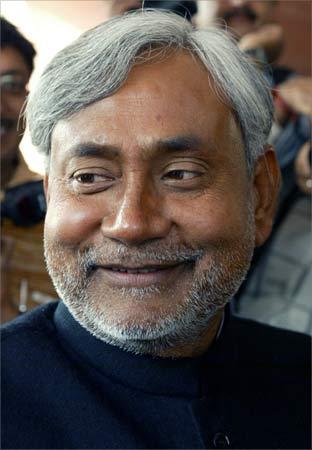 Bihar Chief Minister Nitish Kumar on Wednesday welcomed Railway Minister Mamata Banerjee's announcement that there was no move to privatise the railway sector.
Before leaving for New Delhi to receive the 'politician of the year' award being presented by a private news channel, Kumar said that he would give a detailed reaction after going through the papers of rail budget presented by Banerjee.
Kumar also welcomed the proposal of allotting five to six new trains to Bihar though, he said, he had demanded at least 15 new trains for the state.
"Mamata Banerjee has done a great service by announcing that candidates appearing in the Railway Recruitment Board examinations can write their papers in regional languages including Urdu," he said.
Kumar, a former railway minister himself, said that he too had made a similar move during his regime.
The chief minister said that he would expect proper release of funds from the ministry to complete the pending railway projects in the state such as rail factory at Harnaut and rail bridges on river Ganga and Kosi.
Asked to compare railway budgets presented by Lalu Prasad and Mamata Banerjee, Kumar said Prasad kept on harping his achievements as to how he made the railways a profit making unit.
He alleged that Prasad had brought profits to the railways by fudging figures and Banerjee took the wind out of his claim by bringing out a white paper on the status of the railways.
Kumar also talked about creation of a Rs 17,000-crore special Railway Protection Fund and formulation of a safety plan hoping Banerjee would consider his plans.
Meanwhile, leader of the opposition in Bihar assembly and former Chief Minister Rabri Devi on Wednesday slammed the Rail Budget saying "it is nothing but mere announcements".
She said Nitish Kumar had earlier said that he was expecting a lot from Banerjee and the railway minister has given a cold shoulder to Bihar by not giving a single 'Duranto' train to Bihar.
Kumar owes an explanation to the people of Bihar as to why step motherly treatment was meted out to the state, Rabri Devi said.
She asked Banerjee to explain as to how the funds would be raised to meet her announcement made on the floor of the House.