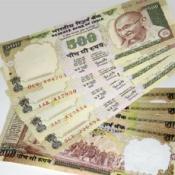 The Indian Railways will earn a profit of Rs 951 crore (Rs 9.51 billion) in 2009-10, down 93 per cent from the 2007-08 level.
While the 2009-10 Railway Budget presented in July last year projected profits at Rs 2,642.26 crore (Rs 26.42 billion), the estimate has been revised downwards by 64 per cent to Rs 951.03 crore.
For the next fiscal, the budget estimates a profit of Rs 3,173.09 crore. India's largest employer that employs 14 lakh people had registered a record profit of Rs 13,431.09 crore (Rs 134.31 billion) in 2007-08.
From FY'08 to FY'10, the fall in profit is 93 per cent, as per the Railway Budget presented in Parliament on Wednesday.
The profits had started showing a decline even in 2008-09, when it come down to Rs 4,456.78 crore (Rs 44.56 billion).
The year-over-year the fall in profit is about 79 per cent. Gross traffic receipts have consistently risen since fiscal 1951-52, the year from which the statement showed financial figures for the Indian Railways.
The revised estimates puts gross traffic receipts at Rs 88,355.91 crore (Rs 883.55 billion) for 2009-10, and the budgetary estimate for the next fiscal's gross traffic receipts is Rs 94,764.95 crore (Rs 947.64 billion), the Railway Budget paper said.