The Sensex took less than two years to rally from the 10,000-mark it first hit in February 2006 to double that on that New Year's Eve.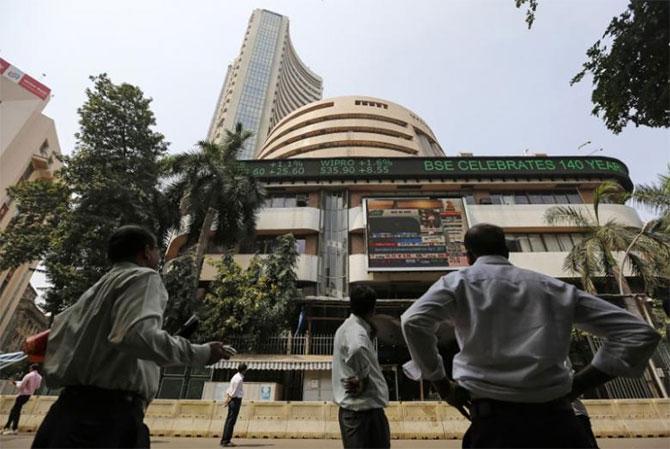 On New Year's Eve, when 2007 was giving way to 2008, the Sensex was sitting pretty over the 20,000 milestone. Nearly 10 years later, it is still finding it difficult to hold the 30,000-mark.
Assuming the situation in West Asia fizzles out and no further global shocks, the BSE benchmark might succeed in topping the Mount triple thousand by the end of this earnings season. In comparison, the previous 10,000 points were done in a gallop.
The Sensex took less than two years to rally from the 10,000-mark it first hit in February 2006 to double that on that New Year's Eve.
Investors must also be weighing this journey in the context that from 10,000 to 20,000 was a 100 per cent climb and the next 10,000 points would only fetch 50 per cent returns, while it has taken almost five times longer.
The collapse of Lehman Brothers and the global financial crisis it triggered does make this slow climb look bad. But, if one takes the lows of March 2009, when the index had fallen to 9,000-levels, investors could look back with some pride.
Another place to look for solace is the Dow Jones Industrial Average. Earlier this year when it kissed 20,000, the Dow had taken nearly 18 years to double after it closed at 10,000 in early 1999, at the height of the dot-com boom. One also needs to look at the constituents, which keep changing.
When the Sensex hit 20,000, its constituents were ACC, Bajaj Auto, Bharti Tele, BHEL, Cipla, Dr Reddy's, Gujarat Ambuja, Grasim, HDFC, HDFC Bank, Hero Honda, Hindalco, HLL, ICICI Bank, Infosys, ITC, L&T, Maruti, NTPC, ONGC, Ranbaxy, Reliance, Reliance Energy, Reliance Communications, Satyam, SBI, Tata Motors, TCS, Tata Steel and Wipro.
Today, there are eight new stocks -- Asian Paints, Adani Ports, Coal India, Lupin, Mahindra & Mahindra, Sun Pharma, GAIL and Axis Bank. Those that have gone out of the Sensex are ACC, Gujarat Ambuja, Grasim, Ranbaxy, Reliance Energy, Satyam, Reliance Communications and Hindalco.
This shuffle says its own story. In the past 10 years, there has been a spate of public sector offerings. Many of these have created good value for shareholders in the form of dividends, if not on capital appreciation.
Coal India, the largest Initial Public Offer when it debuted in 2010, and GAIL are big entrants to the index in the category.
The cement sector has clearly lost out. And, among the business groups which have gone out of favour in the Sensex during this period seems to be the Anil Dhirubhai Ambani group.
It has been trying to get out of its high leverage and the trouble that came with it. Reliance Infrastructure and Reliance Communications, its group firms, are no longer part of the Sensex.
Satyam Computer, which reported a Rs 8,000 crore (Rs 80 billion) hole in its books, is also out. On the other hand, the Adanis have entered and are clearly on the investor radar for various reasons. Mahindra is in. Axis Bank, another entrant, is abuzz with merger talks, which might bring in another new entrant.
In hindsight, the index appears to have gained by cleaning itself up.
In fact, the two-year gallop was not a clean one. As several Sebi orders over recent years have shown, that 10,000 point rally was an aberration and fuelled by several unscrupulous elements, details of which would emerge only much later. One can only hope that these 10,000 points, won the hard way over a long time, doesn't bring up such nasty surprises.
Photograph: Danish Siddiqui/Reuters