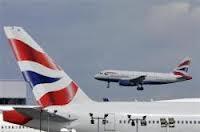 British Airways, the UK-based premium airline, said on Tuesday it intends to increase its flight frequency from Hyderabad to London by having daily flights.

Christopher Fordyce, Regional Commercial Manager, British Airways, South Asia, said from October 27, the premium airline will fly daily to the city of Nizams, providing seamless connections to over 500 destinations around the world.

"For British Airways, Hyderabad is truly a key market in our South Asian network. We have witnessed tremendous growth in the market since 2008, resulting in concerted growth in the outbound business and leisure tourism.

"Our customers from Hyderabad will now be able to enjoy daily service to the UK whilst enjoying British Airways' unmatched inflight services and flying experience," Fordyce said at a press conference.

India as a whole is amongst the fastest growing markets for British Airways and is the second largest market for the airlines outside the UK, after the US.

Quoting a report,
he said that every year more number of Indians are flying to the UK and the rest of the world.
According to international tourism board, India has emerged as the world's fastest-growing outbound market and in absolute numbers it is second only to China.
"The number of Indians travelling overseas is set to rise from around 15 million today to 50 million by 2020.
"This phenomenal growth will be further supplemented by growth of India's middle class, which is expected to grow to 50 per cent by 2030 as against the current 5 per cent."
"Similarly, HNIs are expected to grow six fold by 2030 from around 0.2 million in 2011 to over 1.2 million by 2030.
This segment will fuel growth at the luxury end of the market," he said referring to the report.
The daily flights will be operated by a Boeing 777-200 in a three class configuration offering, flat beds in Club World, World Traveller plus and World Traveller seats.
British Airways has been flying to India for 84 years and currently operates 46 flights a week from London Heathrow to five cities: Mumbai, Delhi, Chennai, Bengaluru and Hyderabad.