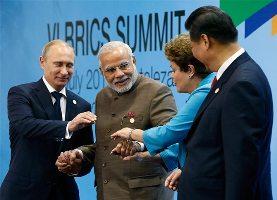 Business leaders of the Brazil, Russia, India, China, South Africa (BRICS) nations are expecting the New Development Bank to be operational by August 2016, which is aimed at boosting infrastructure, logistic and connectivity and trade ties among the member countries.
"We strongly believe that the BRICS Bank should be operational as soon as possible or within 18 months latest," BRICS Business Council Interim Chairman of India Tulsi Tanti said after a meeting of the Council earlier this month in Brazil.
Established in 2013, the BRICS Business Council comprises 25 prominent entrepreneurs from Brazil, Russia, India, China and South Africa, representing various industries and sectors in the BRICS nations.
The meeting apart from the New Development Bank also discussed proposals related to favourable business environment, trade in local currencies, business travel, trade facilitation, logistic and connectivity, technical standards, investment ties, besides the BRICS Bank.
It also decided to lay importance on building energy sector based on the principles of affordable, sustainable energy for all, low carbon economy, generate jobs and attaining energy security in the BRICS region.
The business council aims to give impetus to trade, business, information exchange and collaborations.
"The (BRICS) region needs to re-establish its prominence as a primary driver of the global economy and it is encouraging to witness the progress and interest amongst BRICS economies in that direction," Tanti said.
"Introduction of the BRICS Bank will unlock trade between the BRICS countries and will also accelerate project exports which will help growth of infrastructure and renewable energy sector," he said.
Heads of the five nation BRICS group -- Brazil, Russia, India, China and South Africa -- decided last year to create a development bank as well as a reserve fund to finance infrastructure projects and to head off future economic crises.
India will hold the Presidency of the $100-billion New Development Bank for the first six years.
The Bank will be based in Shanghai, China's financial hub.
Image: (L-R) Russia's President Vladimir Putin, India's Prime Minister Narendra Modi, Brazil's President Dilma Rousseff and China's President Xi Jinping pose for a group picture during the VI BRICS Summit in Fortaleza. Photograph: Paulo Whitaker/Reuters
© Copyright 2022 PTI. All rights reserved. Republication or redistribution of PTI content, including by framing or similar means, is expressly prohibited without the prior written consent.