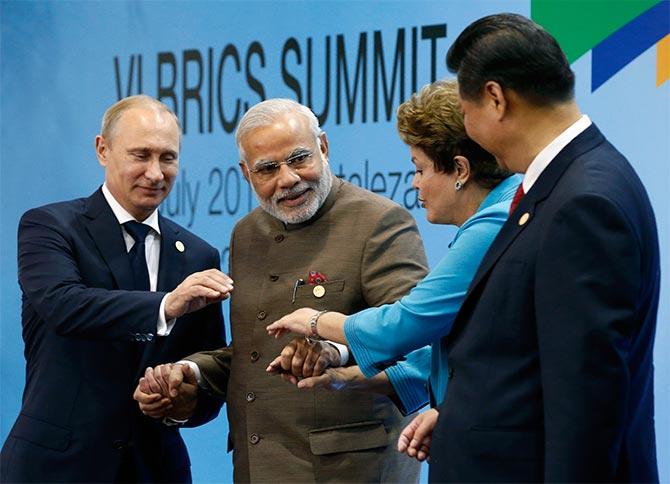 Prime Minister Narendra Modi has said the establishment of the BRICS development bank opens up newer opportunities of cooperation with nations of South America.
"Our discussions today should throw up new ideas for partnership between BRICS and South America. BRICS nations have already started a new chapter in this with the BRICS New Development Bank.
This will open up newer opportunities of cooperation," he told leaders from South America.
Please click here for the Complete Coverage of Budget 2014 -15
South American presidents were specially invited by Brazilian President Dilma Rousseff for a meeting on Wednesday on the sidelines of the summit of the five-nation grouping.
Modi said South America has tremendous potential.
"It is blessed with vast resources and talent. It can become an important pillar of the global economy. In the face of economic uncertainty its growth can be crucial for global prosperity," he said.
In a globalised and inter-connected world, he said, "our destinies are inter-linked".
"We are all bound by shared aspirations and common challenges. We all have a stake in each other's success.
Distance is not a barrier to opportunities. It also does not insulate us from challenges in other parts of the world," Modi said.
The Prime Minister said nations must unite to seek faster growth and newer avenues of generating prosperity, to find solutions to the challenge of poverty and to preserve our environment, and use our resources well.
Referring to the links between India and South America, the popularity of authors like Octavio Paz and Gabriel Garcia Marquez, and the links between Gujarat and the region, Modi assured the leaders from South America that India will work more closely with them more than ever before "at the bilateral level, as a BRICS member, in the G77, as well as other international forums.
Please click here for the Complete Coverage of Budget 2014 -15