Leasing activities of office and retail spaces would not be affected much.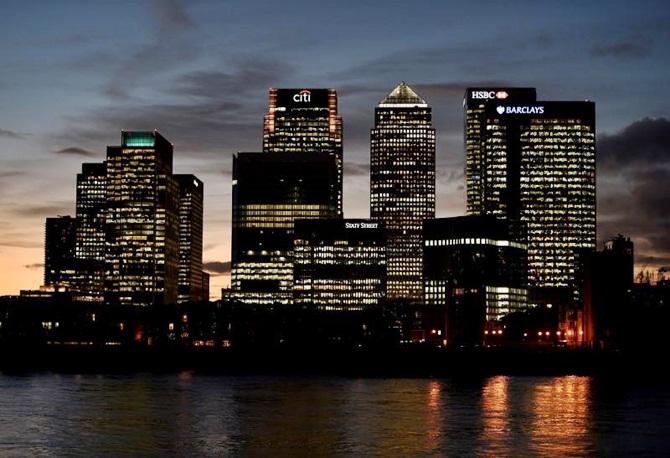 IMAGE: Canary Wharf financial district is seen at dusk in east London. Photograph: Toby Melville/Reuters
Indian investors may look at acquiring properties in UK, including in London, following devaluation of pound and fall in real estate prices due to Britain's exit from European Union, property consultants said.
At the same time, FDI and private equity inflow in Indian real estate sector may be impacted adversely, they added.
Leasing activities of office and retail spaces would not be affected much.
"The British Pound is currently at a 31-year low, which itself provides an attractive rationale for foreign investors with an appetite to do so to acquire properties in the UK," JLL India Country Head and Chairman Anuj Puri said.
The UK - particularly cities like London - has always held a special attraction for Indians, particularly HNIs, with business interests or families there, he said, while adding such individuals would certainly keep a close watch on the effect of Brexit on UK's property prices.
"It is very likely that many more Indians will seek to invest there," he said in a statement.
Commenting on the development, CBRE Asia Pacific Head of Research Henry Chin said: "In the short term, we expect APAC investors to adopt a wait-and-see approach while they receive more clarity on the future developments arising from the UK's decision to leave the EU."
"CBRE expects some hesitancy from investors, however, the UK, especially London, will continue to remain attractive for Asian investors driven by the inherent attractiveness of the market, including its transparency, political stability, market liquidity and the openness of its legal framework for foreign investors, which includes their tax structure," Chin said.
"A decline in the value of the sterling could also be a catalyst for increased foreign investment in the UK due to attractive returns," CBRE said.
Knight Frank India CMD Shishir Baijal said: "The combination of lower prices and devaluation of the pound should draw in Indian investors looking to acquire assets in the UK."
"London has always been a favourite destination for Indian property buyers and it augurs well for the Indian investors to make their move now," he added.
On impact on investment in Indian real estate, Puri of JLL India said: "Investors will now be in a risk-off mode, meaning more number of investors would either pull out investments or stay put without investing further until clarity emerges."
"Until today, year 2016 was looking seemingly positive for real estate sector in terms of investment inflows (read PE or FDI inflows), but now that is somewhat at risk," he added.
Stating that recovery of Indian real estate would continue on the back of a resilient economy, Puri said Brexit would not disturb that recovery much, since India's office market leasing is dependent only by 5-7 per cent on UK-based firms.
On leasing market, JLL said the commercial real estate decisions are made with a medium to long term view and as of now it seems unlikely that these will be affected in India.
However, the consultant said that a possibility of EU slowing down could have an adverse impact on revenues of IT firms, which are major occupier of office space in India every year.
© Copyright 2021 PTI. All rights reserved. Republication or redistribution of PTI content, including by framing or similar means, is expressly prohibited without the prior written consent.