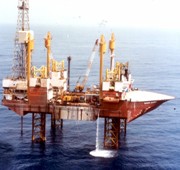 Oil Minister Murli Deora will make a pitch for ONGC buying BP Plc's Vietnam gas fields when the British energy firm's chairman, Carl-Henric Svanberg, and newly appointed chief executive, Robert Dudley, visit India next week.
ONGC Videsh Limited, overseas investment arm of state-run Oil and Natural Gas Corporation, wants to buy BP's 35 per cent stake in the $1.3 billion Nam Con Son gas project in Vietnam.


"Deora will try and influence Svanberg into selling the Vietnam assets to OVL," a government official said.


OVL has roped in Vietnam's PetroVietnam for buying BP's stake in two offshore gas fields, a pipeline and power project -- together referred to as Nam Con Son.


Block 06.1, where the Lan Tay and Lan To fields currently produce about 14 million cubic metres of gas per day, was originally allocated to OVL, but because of the foreign exchange crisis of the 1990s, it had to farm-out some of its stake to BP.


With BP considering the sale of fields in Colombia, Venezuela and Vietnam to finance its Gulf of Mexico oil spill liability, OVL sees an opportunity to get the fields back.


China's CNOOC and Sinopec, as well as Thailand's PTTEP, may also be interested in BP's stake, he said.


OVL has a 45 per cent stake in Block 06.1, where the balance 20 per cent is with PetroVietnam.


A 370-km-long pipeline ships the gas produced from the fields to onshore power plants. BP has a 32.33 per cent stake in the $565 million pipeline, where its other partners are ConocoPhillips (16.7 per cent) and Petrovietnam (51 per cent).


The gas produced from the fields is supplied to a 720-MW, $412 million power plant, where BP, NI of Japan and Semb Corp of Singapore have a 33.3 per cent stake each.


The Nam Con Son project's upstream part is Block 06.1, located 370 km SouthEast of Vung Tau on the southern Vietnamese coast.


The 955-square kilometre block holds the Lan Tay and Lan To gas fields. Lan Tay currently produces around 14 million standard cubic metres per day of gas, while Lan To is currently under development.


OVL has so far invested $217 million on the gas fields and has government approval to invest up to $377.46 million, the official said.


Chinese firms could come up against political opposition in Vietnam, where suspicion of China runs high due to the territorial disputes between the two in the South China Sea. Besides Nam Con Son, BP owns a 75.9 per cent operating interest in Block 5-2, with Petrovietnam holding 24.1 per cent.


In addition, it partners ConocoPhillips and PetroVietnam in Block 5-3.


OVL also has two other exploration blocks -- 127 and 128 -- in Vietnam.


The gas fields in Block 06.1 were discovered in 1998 and were put on production in January, 2003.


The field produced an average of 12 mmscmd of gas in 2009 and with additional compressors being put in place, the output will rise to 15 mmscmd.


© Copyright 2022 PTI. All rights reserved. Republication or redistribution of PTI content, including by framing or similar means, is expressly prohibited without the prior written consent.