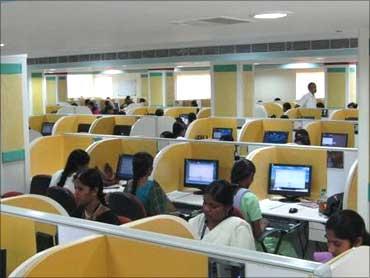 The worldwide business process outsourcing market is forecast to grow by 6.3 per cent globally and 17.9 per cent in the Asia-Pacific during the year 2011, says a study by market research firm Gartner.

"While growth remains strong in developing economies, the United States, the world's largest BPO market, presents a mixed picture for the global market," Gartner Research Vice-President Cathy Tornbohm said in a statement.

Tornborn added that emerging markets are faring far better and, generally, multinational companies continue to look to BPOs as a means to reduce costs, as well as buoy their business operations.

"We also see an increase in transaction volumes, especially in payroll, recruiting, accounts payable and customer data analytics and knowledge process outsourcing (KPO) activities," Tornborn said.

Gartner said that growth in the Asia and Asia-Pacific BPO markets will be positive and is expected to be 17.9 per cent in US dollars terms during the year 2011.
Gartner expects higher demand for services related to customer management BPO, HR outsourcing, banking, financial and billing BPO services and supply management BPOs through 2015.
Most growth will centre on the key regional economies of India, Australia and China, the statement said.
The firm identified scalability, the infusion of new processes and technology as the key drivers for the outsourcing business in emerging economies within the region.
Gartner estimates that North America's BPO market will grow by 3.8 per cent in 2011.
"Key vertical markets poised for industry-specific BPO growth through 2014 in North America are retail, healthcare, transportation and utilities. Within horizontal sectors, dynamic growth is expected for customer selection in the customer relationship management and human resources (HR) domains," Gartner said.
In Western Europe, Gartner estimates that the BPO market will grow by 8.9 per cent in US dollars terms in 2011 due to healthy demand for services relating to customer management, finance and accounting and human resources.
Gartner sees the challenges of language, labour laws and trade unions and the lack of labour arbitrage benefits as limiting the growth of BPO business in continental Europe.
Gartner estimates that Japan's BPO market (expressed in yen terms) will decrease by 0.9 per cent in 2011.
Gartner expects Latin America's BPO market to grow by 14.7 per cent in US dollar terms in 2011, despite the slow growth of the region's IT services industry in 2009.