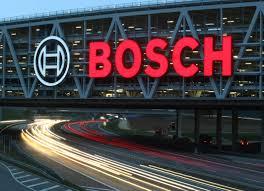 As efforts continued to end the four-day old strike at German auto component major Bosch's Adugodi plant in Bengaluru, the union on Friday sought government's intervention and said it would continue the stir till they get 'justice.'
The Additional Commissioner (Labour) has convened another round of meeting tomorrow, the workers union said but warned they would continue their indefinite strike if the management 'continues with their injustice' to the employees.
". . .we will attend the meeting and hear his guidance (additional commissioner, labour), but if the management continues their injustice to employees, we will have to intensify our strike with the help of public representatives and other labour unions," Mico Employees Association President S Prasanna Kumar told reporters in Bengaluru.
He appealed to the government to intervene and issue directions to the management, adding, 'we are still ready for any lawful discussions on the issue.'
He also said the union will fight for their cause until they get justice.
Kumar said they will meet Labour Minister and Chief Minister Siddaramaiah to seek their intervention.
"Government has certain powers to issue directions to the management, so we ask for their intervention."
The first round of talks between the management and the union were held yesterday, which the workers claim broke down as management stuck to their stand.
A tripartite meeting, involving the union, the management and Additional Labour Commissioner, will be held on September 20.
The workers are on an indefinite strike since Tuesday seeking resolution for their charter of demands including wage issues, medical benefits, and on the issue of demand for productivity by the management.
The union has claimed that 2,575 permanent workers and 370 temporary workers are part of the strike.