The purpose of issuing bonus is to increase liquidity in the stock and hand out the available distributable net worth in a cash-neutral manner.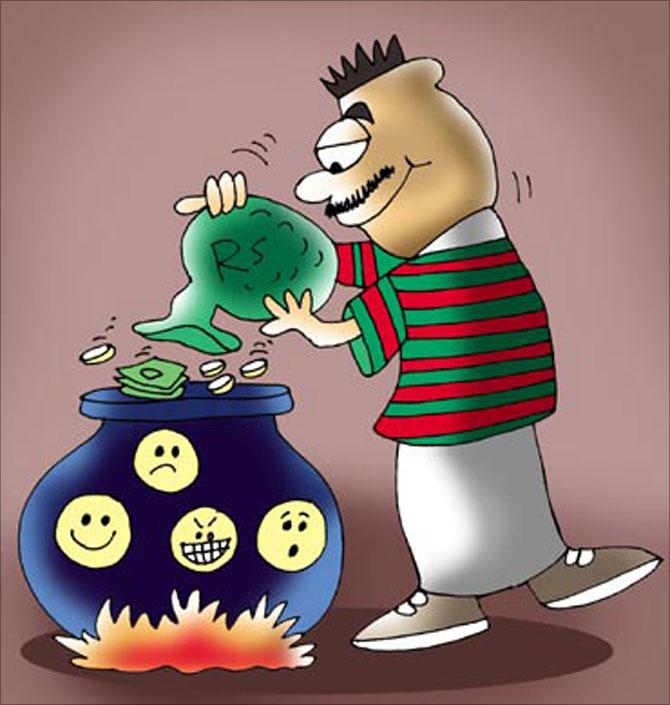 The number of companies that have announced a bonus issue in the first five months of 2016-17 (FY17) has surpassed last year's figure, with 41 companies declaring a bonus, compared with 30 companies in the corresponding period a year ago. Total 59 companies announced bonus shares in FY16.
These 41 companies, according to Capitaline Plus data, include five central public sector enterprises (CPSEs) - Hindustan Petroleum Corporation Limited (HPCL), Bharat Petroleum Corporation Limited (BPCL), Indian Oil Corporation (IOC), Rural Electrification Corporation (REC), and Power Finance Corporation (PFC).
Last year, Bharat Electronics was the sole CPSE that issued bonus shares during this period.
These five companies have reported 18 per cent year-on-year growth in their aggregate net profit in April-June (Q1) quarter.
On a sequential basis, the combined net profit of these companies has almost doubled.
Another public sector undertaking (PSU), IOC, recommended issue of bonus shares in the ratio of 1:1 i.e. one equity bonus share of Rs 10 each against every existing equity share of Rs 10 each. REC and PFC, too, announced bonus shares in the ratio of 1:1, while HPCL declared a 2:1 bonus.
"Oil marketing companies (OMCs) - HPCL, BPCL and IOC - have been doing well. A bonus to the existing shareholders is just another way of rewarding them," says Daljeet Kohli, head of research at IndiaNivesh Securities.
A bonus is given to existing stockholders in proportion to the number of shares they already hold.
The purpose of issuing bonus is to increase liquidity in the stock and hand out the available distributable net worth in a cash-neutral manner.
"Issue of bonus shares is a mechanism of utilising the reserves. Whenever a company has accumulated profits, they can reward the shareholders by issuing a bonus. This does two things. One, this is a reward to the shareholders for staying invested in the company. Secondly, the share starts to trade on ex-bonus basis, which increases the affordability for investors as the price denomination for such shares reduces," explains Ajay Bodke, CEO & chief portfolio manager - PMS at, Prabhudas Lilladher.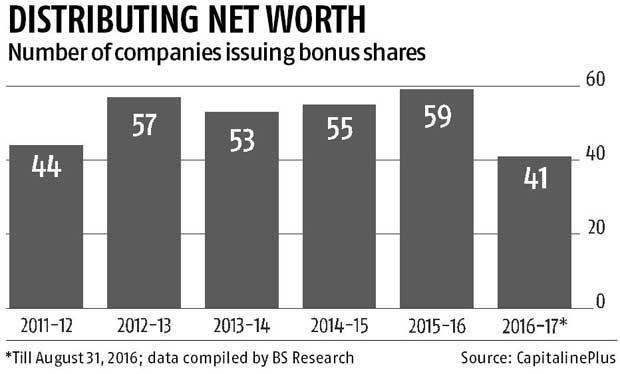 "Companies usually announce bonus issue as an indication that the distributable surpluses are large. If the companies maintain dividend percentage, the shareholders also get rewarded by getting more dividend in hand, given the increase in number of shares they hold," he adds.
ITC, Bajaj Finance, Berger Paints, Grindwell Norton, Menon Bearings, Nava Bharat Ventures, Symphony, Venky's India and 8K Miles Software Services are among the other notable private sector companies that have announced bonus shares during the current fiscal.
As regards OMCs, analysts are confident that they should be able to sustain their earnings and even improve from the current levels in FY17-18.
"We are constructive on refining margins and, unlike last year, there will likely not be much inventory losses either in the refining or marketing segments. Also, with volume growth remaining strong, marketing earnings are likely to remain resilient. We model 8-9 per cent earnings compound annual growth rate (CAGR) for HPCL/BPCL, over the next two years. For IOC, we expect a 19 per cent earnings CAGR over FY16-18F (forecast)," said Anil Sharma and Ravi Adukia of Nomura in a report.
Illustration: Uttam Ghosh/Rediff.com