Actors and sportspersons are increasingly blacklisting products like colas and fairness creams.
Urvi Malvania explores what lies behind the concern among endorsers over brands they promote and how will it impact both.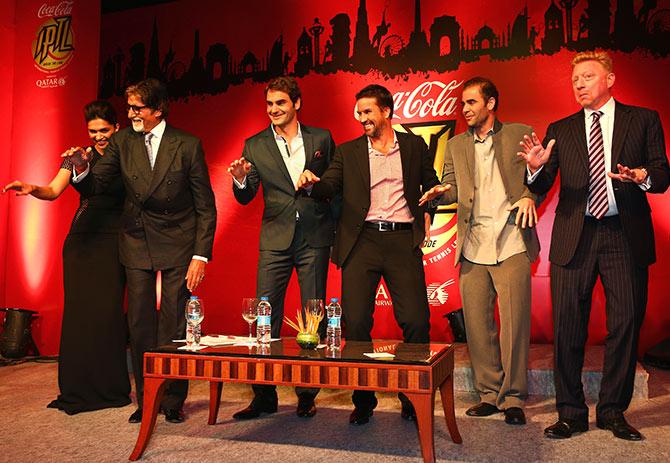 IMAGE: From left, Bollywood stars Deepika Padukone and Amitabh Bachchan with tennis stars Roger Federer, Patrick Rafter, Pete Sampras and Boris Becker at the Coca-Cola International Premier Tennis League.
While Bachchan has stopped endorsing colas, Padukone has faced backlash for the same. This trend is making companies recalibrate its brand-endorser engagement.
Photograph:

Clive Brunskill/Getty Images.
Colas, fairness creams, alcohol, cigarettes are increasingly finding themselves on the blacklists of a growing number of endorsers.
Be it Virat Kohli's recent announcement that he will think twice before putting his weight behind a brand he does not consume (read colas) or the backlash that actor Deepika Padukone faced on social media for her endorsement of Coke or the denouement of fairness creams by a group of actors, the brand-ambassador relationship is fraying at the edges. And marketers say, pushing the two to rethink their associations.
"As a part of our brand journey and the evolving consumer perceptions around authenticity, we are going back to romancing our products, especially in the 'fun for you' categories, says a Pepsi spokesperson. 'Fun for you' stands for the cola portfolio, and this is where the company has been at the receiving end of endorser disenchantment.
Pepsi is not the only one being picked upon; Coca Cola and Deepika Padukone were subjected to a barrage of tweets and comments on social media over the 'Taste the Happiness' campaign. Fans have labeled her irresponsible for endorsing a fizzy drink.
The fear of social media backlash is one of the forces driving endorser concern over brand lists. There are other reasons too -- disagreement over fees and a desire to adopt a social cause to further their image are common reasons, too.
Bharat Bambawale, former global brand director of Airtel and founder of brand consultancy BB&A, says, "For a long time, celebrities indulged in what I would call a mercenary use of their persona for brand support. But now, with increased awareness 'to do the right thing', finally some of them have started taking a stand.
"Also, today celebrities are more informed about the products they endorse and in a better position to make a sensible choice (as compared to say, 20 years back)."
Kohli's distancing himself from Pepsi is being seen in this light. While he may have been less discriminating at the start of his career, many believe he is now aware and can also afford to take a stand.
Prabhakar Mundkur, chief mentor of Hinduja Global Solutions (HGS), says that there is a mix of factors at play. "Celebrities stand to lose more from the negative conversation around a brand they endorse. It could be a case of self-preservation and also many have made enough to let go of a pay cheque," he adds.
Kohli's rethink comes after a six year stint with Pepsi. Amitabh Bachchan broke away after a 14 year association.
While many see this as an opportunistic move on the part of the endorsers, there are those who see it is a case of learning with the times. The young are becoming more conscious about their consumption choices and driving their icons to take such a call.
A similar story is unfolding over fairness creams.
A number of actors have refused to sign on for brands such as Fair & Lovely, Fair & Handsome and the skin lightening/whiteness products of Garnier, Nivea and Emami. Those who do are under pressure from fans and fellow actors to move away.
The Consumer Protection Act is also forcing endorsers to consider fairness claims more closely. Hindustan Unilever, which owns the Fair & Lovely brand, said that it would not comment on the story.
"Whatever the reasons, brands must go back to the drawing board. For long, brands have been using celebrity endorsers as a substitute for clarity [in communication]and strategy," Bambawale says.
This is perhaps why Pepsico is recalibrating its brand-endorser engagement. It does not see celebrities as cola endorsers, but as its spokesperson says, "In certain categories like health and nutrition, we will continue to build on the sources of authority model. For example, leveraging Chef Vikas Khanna for our Quaker range, Sachin Tendulkar for Quaker Oats and Milk and P V Sindhu for Gatorade."
The blacklist
Amitabh Bachchan
Product: Colas
Brand: Pepsi
Bachchan used to be the brand ambassador for Pepsi, but stopped endorsing the brand in 2014. He said that a young schoolgirl had confronted him about being the face of a product that is full of negative ingredients and that made him pull out.
Virat Kohli
Product: Colas
Brand: Pepsi
Kohli has been brand ambassador for Pepsi for six years. His contract is up for renewal, but in the past few weeks, in several interviews to the media, he has said that he will no longer endorse things that don't fit his lifestyle and consumption patterns, given the huge emphasis he now places on health and fitness.
Sachin Tendulkar
Products: Alcohol, tobacco
Tendulkar told a group of advertisers that he never endorses any alcohol or tobacco brand because his father had advised him against these products.
P V Sindhu
Product: All colas
Sindhu clarified soon after her winning the Olympics medal at Rio that she would not endorse cola brands and anything else that was harmful for health, following in the footsteps of her coach, P Gopichand.
Anushka Sharma, Kangana Ranaut, Ranbir Kapoor, Nandita Das
Product: Fairness creams
All actors have slammed the fairness creams category as a whole and their colleagues who endorse such brands (Fair &Lovely, Fair & Handsome, Garnier fairness washes and face creams). Among the well-known faces that have appeared for fairness cream/skin lightening lotions and face washes are: Shah Rukh Khan, Aishwarya Rai-Bachchan, Deepika Padukone and Hrithik Roshan.