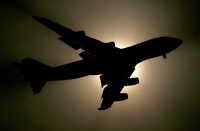 A prominent name in the international aviation industry has warned the Indian domestic airlines to immediately increase the passenger fares by 10 to 15 per cent or face even more serious financial crisis.
Boeing India president, Dinesh Keskar, who also heads the civil aviation committee of Federation of Indian Chambers of commerce and industry said that with the rising prices of aviation fuel, the airlines did not have any option but to increase the fares.
Referring to the growth of aviation in India and rising numbers of air passengers, Dinesh Keskar said that it was a "profitless growth" and not good for the sector in the long term.
Addressing a press conference on the sidelines of the India Aviation-2012 in Hyderabad, Dinesh Keskar said: "For this market (India) to continue to do better fares must be raised to the tune of 15 per cent, five per cent give and take.
"If we don't do that, we will continue to have these massive losses that are faced by carriers and I can tell you that you can have this kind of losses only so long and at some point in time we will have difficulty in sustaining".
Dinesh said that rising prices of fuel were a serious problem and they were caused by the factors which were not in the hands of the aviation industry.
He referred to the growing tensions around Iran, Israel and the US in this context adding that the industry will have to live with the consequences of what these countries do.
He pointed out that the aviation fuel cost was Rs 70,000 per kilo tonnes two and a half years ago and later it came down to Rs 30,000 and now it was again back to Rs 65,000.
Secondly he said the unstable dollar rupee exchange rate was also hitting the aviation sector hard as it affects almost every thing the airlines
need.
"The fare should increase by 10 per cent. Otherwise it will further drain their resources", he said.
Giving another example he said that in 2008, airlines were losing Rs 1,000 per passenger on their Delhi-Mumbai flights.
After making a gain of Rs 500 per passenger later, by December 2011 they were again loosing more than Rs 500 per passenger.
Boeing was in the focus at the India Aviation, thanks to its Dreamliner 787 which arrived here last night on its maiden visit to India.
The most modern and new generation aircraft from Boeing stable, was expected to be inducted in to Air India fleet by may this year.
Air India has ordered 27 such planes but due to the difficult financial situation it was contemplating to lease these aircrafts back to the manufacturer.
Describing the 787 bird as a game changer, the most economical and environment friendly, Keskar said: "It is certain to revolutionise not only the passenger experiences but also airline operations," he said.
Its fuel cost will be 20 per cent lower compared to any other aircraft in the same class, and airframe maintenance will be 30 per cent lower.
The aircraft was also environment friendly as its noise footprint will be 40 per cent smaller. Apart from Air India, Jet Airways also has ordered 10 787 air crafts, he added. On the whole the Boeing had a backlog of order of 870 aircrafts from 59 countries.
On the whole, Dinesh Keskar appeared gungho on the long term future of civil aviation sector in the world, especially in South Asia.
By 2030, there will be need of 33500 aircrafts worth 4 trillion dollars, he said. Thirty-four per cent of them will be in Asia Pacific.
"Indian aviation market will require 1320 commercial jets valued at about $150 billion over the next 20 years," he added.