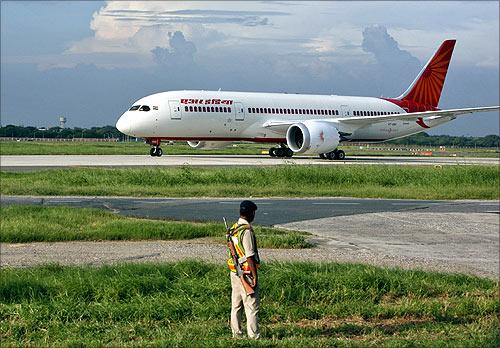 A Boeing Co 787 Dreamliner operated by Air India this week returned to London due to a communications problem, but has since been operational, the state-run carrier said on Wednesday.
The aircraft's transponder failed during the flight on Sunday from London to New Delhi, Air India spokesman G.P. Rao said, adding there was no immediate safety concern. The plane was back in operation on Monday after engineers fixed the transponder, he said.
The 787 has suffered a series of glitches since its launch two years ago. Overheating batteries in some planes forced the grounding of its worldwide fleet last year. Flights resumed in April 2013.
Discount airline Norwegian Air Shuttle ASA said on Tuesday that a fuel leak on a 787 Dreamliner caused a flight from Bangkok to Oslo to be delayed by 19 hours.
Air India, which is the only Indian carrier to operate the Dreamliner, has seen glitches in its 787s including a windshield crack and a body panel falling off during a flight last year. Boeing is upgrading the software in some of Air India's Dreamliner jets to improve their performance.
The U.S. planemaker referred questions to Air India on the latest incident. "We are addressing each and every issue with Boeing," Air India's Rao said.
Air India, which has 11 Dreamliner planes in its fleet, is scheduled to take delivery of three more by March. The carrier has total 27 Dreamliner jets on order.
(Reporting by Devidutta Tripathy)