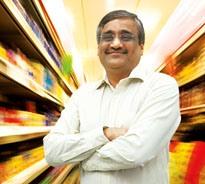 Diversified conglomerate Future Group's e-commerce venture, futurebazaar.com, has revamped its online business portfolio and expects an around Rs 1,000 crore (Rs 10 billion) revenue over the next 18-24-months, a top company official said.
The company had ventured into the e-commerce space or online business four-years ago. "We want to revolutionise digital commerce in retail in India. We will be offering the cheapest deals online, which will be 5-10 per cent cheaper here. In the next 18-24 months, we expect an around Rs 1,000 crore revenue for the Group coming in from here," Future Group's CEO, Kishore Biyani, told reporters at the launch of 'The Battle', the unique physical shopping initiative.
The products range from phones, laptops, TVs, apparels, home and kitchen appliances and home furnishings. The Group, which owns the country's largest retail chain Pantaloon Retail, also expects a gross margin of 10-12 per cent from futurebazaar.com over the next two-years.
"Just like IPOs are being launched in the market, we will be launching products. We will start with mobile phones first and then have an `IPO' for other categories every fortnight. There will be a battle to buy the cheapest product," he said.
The registration for the cheapest mobile 'IPO' will open this October 15 and close on October 18. Payments for online shopping will be accepted in cards, cheques, cash and Mchecks with an option for cash on delivery as well.
However, there will be no restriction on brands and models on the online platform, he said, adding that those who cannot access the Internet can also order over phone.
For phone commerce, the company has hired 250 calling agents who will be attending to 40,000 customers per day.
Meanwhile, the logistics and back-end part will be taken care of by Future Supply Chain, a subsidiary of the Future Group, which has set up a large warehouse for the same in Bangalore.
The Group has so far invested around Rs 100 crore (Rs 1 billion) in the entire project and will pump in another Rs 65 crore (Rs 650 in the coming months, Biyani said, adding that the services will be available at 16,000 pincodes across 1,600 cities in the country.