The promoter-brothers, distant cousins to IndiGo's Rahul Bhatia, are eyeing Air India's ground handling subsidiary to augment their aviation services business even as they make a big play in EVs.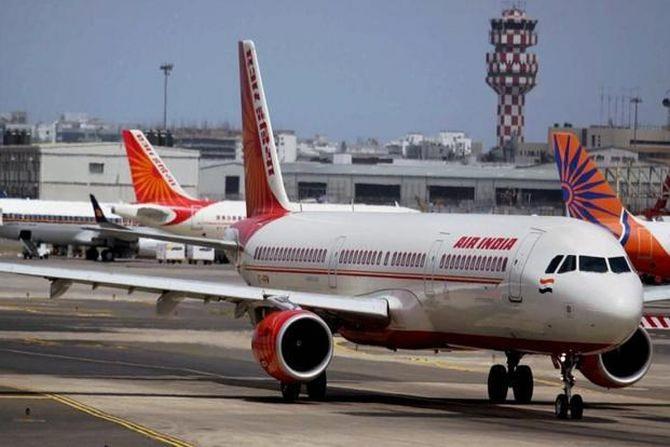 Their business interests often overlap, sometimes forcing them to compete head-on with their better-known distant cousin.
So when the low-profile Delhi-based Bhatia brothers — Ankur and Gaurav — who run the aviation-to-hospitality Bird Group, hit the headlines for making a bid to buy out Air India with Spicejet promoter Ajay Singh a few weeks ago, many speculated that it was an ambitious (some said over-ambitious) attempt to get into an area where Rahul Bhatia, promoter of low-cost leader IndiGo Airlines, dominates the skies.
The IndiGo promoter does not only account for half the domestic airline market share but his group also straddles the hotels business with a large budget chain of Ibis hotels, for which it has invested over Rs 2,700 crore across 13 cities for 3000 rooms.
His cousins also run hotels — but in the luxury end of the market in India and the UK under the Roseate brand name with less than 500 rooms.
And Rahul's InterGlobe also operates Travelport, a global distribution system, which locks horns with Bird Group's Amadeus.
A Bird spokesman clarified that the group has not bid for Air India.
And that is simply because the group does not have the kind of financial clout that the Tata group wields, and it would be suicidal to do so with their businesses badly hit by the Covid-19 pandemic.
What certainly does interest the Bird Group is the smaller pie of the Air India divestment programme — the ground handling subsidiary Air India Air Transport Services Ltd (AITSL) for which a request for proposal is being finalised.
The Bird Group is one of the largest third-party ground-handling companies.
AITSL, which does Air India's ground handling business, would catapult the group into a dominant player in the game.
This fits in with the Bird Group's strategy of being a one-stop-shop for aviation-related business services "While airlines run planes we want to be a one-stop preferred partner for all non-core activates from ground handling, IT and distribution, hospitality, food and beverages, aircraft maintenance services for general aviation as well as run general aviation terminals amongst oth­ers," said a Group insider (the company declined to par­ticipate in the story). It also acts as the general sales agent for 28 international carriers.
AITSL has ground handling facilities in over 98 airports across the country and controls over 70 per cent of the ground handling market.
What's more, it is profitable (Rs 63.8 crore profit in 2018-19).
That is because apart from Air India, it offers services to over 37 foreign airlines and other domestic carriers.
In contrast, Bird has presence in only nine airports, which includes Delhi and Mumbai and apart from global airlines such as United and Lufthansa also does ground handling for Tata-owned Vistara.
The Bird Group expects the privatisation of AITSL to take place simultaneously with Air India, since the bulk of the ground handling business comes from the state-owned carrier.
Winning AITSL would also compensate for the fact that Amadeus lost the Air India ticketing inventory distribution business to Rahul Bhatia's Travelport in 2018 in a competitive bid.
Despite this loss of business, Amadeus has a substantial presence in the market with over 50,000 point of sales across the country.
Last year, it also signed another agreement with Air India under which it regained part of the business it had earlier lost.
In the hospitality business, the Group is looking at rejigging its business model and push for a franchising model.
It runs six luxury hotels, which include three in the UK, and is putting up three new properties in Goa, Jaipur and Hyderabad.
A Bird group executive, however, said: "We are in the top end of the hotel space and own the properties.
"But now we are looking at an asset-light model and will be expanding through the franchise route."
But if aviation and hospitality are the focus areas, the Bird Group has made a huge bet by foraying into the unrelated field of electric vehicles.
The group has not publicly declared its investment in this space but is banking on the fact that it was one of the early entrants through a tie-up in 2010 with Segway, a famous manufacturer of the two-wheeled self-balancing transporter, which Bird assembles and sells in India.
The company also recently tied up with Australian e-mobility brand VMoto and is expected to bring its model range, which includes Vmoto CUX and CU mini range of two-wheeled EVs. Under the agreement, Bird would buy a minimum of 10,000 units in the first year of operations.
The launch is expected later this year and it will be positioned in the affordable segment.
"We'd be looking at assembling the product in the country and are looking at third-party outsourcing deals too," said a source aware of the development at Bird Group.
The group has plans for a mass-market electric car as well.
But this plan could change owing to geo-political realities.
A year ago, the group signed an agreement with Chinese automaker Haima Auto­mobile for a joint venture to assemble an electric hatchback car.
Given the Indian government's diktat to discourage Chinese investment following Ch­i­na's incursions in Ladakh, the group is reas­sessing the joint venture.
Haima was set up initially as a joint venture between Mazda and the Hainan provincial government selling rebad­ged cars of its Japanese partner.
The product was expected to have a price tag of Rs 10 lakh and was to be launched in June this year.
Insiders say that the plan was to assemble the vehicle in India to reduce the risk of supply chain disruptions as key components had to be imported to make the electric hatchback.
The EV play is certainly a high-risk one, given the formidable competition from well-funded players such as Ola Electric (supported by Soft­bank) which is setting up a 10 million per annum capacity, and Hero Electric, which is looking at doubling its capacity.
Even entrenched auto players such as Bajaj Auto and TVS are looking at adding capacity.
The success of this major diversification could depend on cash flows from the mainstay businesses of aviation and hospitality, both of which are prey to the second wave of Covid-19 infections.
Photograph: PTI Photo