India's sprawling digital public infrastructure received a glowing endorsement from billionaire philanthropist Bill Gates on Wednesday as he praised the country's "great" digital network, reliable and low-cost connectivity, and said this will be the cheapest 5G market.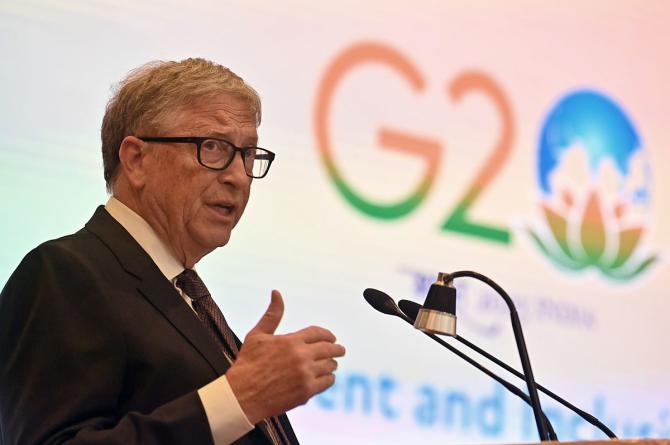 Under the G20 presidency of India, a session on 'Building resilient and inclusive economies- the Promise of Digital Public Infrastructure' was held on Wednesday in New Delhi, where the Microsoft co-founder spoke of India's digital identity Aadhaar, its payment infrastructure, and rapid strides that the country has taken in bringing more people into formal banking system.
"India in particular, by laying the groundwork for digital public infrastucture starting with identity system, allows people to build on top of that.
"And to make financial access and financial payment an element of that in a trusted way allows for an incredible variety of applications.
"We are just at the beginning of this. We are seeing incredible ingenuity about using this, and it is in many different sectors," Gates said speaking at the event.
Gates - who is the co-chair and trustee of Bill and Melinda Gates Foundation - said that Covid-19 across the world had demonstrated the value of digital payment systems for facilitating emergency relief payments.
"No country has built more comprehensive platform than India...Because of the pioneering investment including creating the basic Aadhaar identity, India was in the lead in getting out (relief) payments...during the pandemic," Gates said.
India can be "such an example" for other countries, he said.
"As I said the Indian system is more ambitious in its breath, the digital vision from the beginning included areas like helping government with its tasks, or enabling exchange of educational materials," he observed.
Gates said that is an exciting year to showcase India's innovations in digital public infrastructure and in other areas.
"It is fantastic that as part of this G20 Presidency, the goal of exposing people to the benefits of that and offering to help them on their journey as they adapt it to their needs, that India is standing as a leader in this," Gates said.
He added: "We would like to see all countries, particularly developing countries, adopt these things."
Gates, who addressed the session, also spoke highly of India's competitive private market, reliable and low-cost connectivity, the innovation landscape and went on to say this will be the cheapest 5G market.
"One thing that India has that is pretty fantastic is you have a great digital network, you have a very high percentage of people using smartphones.
"You have opened transactions also with feature phones," he pointed out.
Gates said connectivity has been an enabling factor for India.
"The connectivity has been very good, it is very reliable, it is the cheapest in the world.
"And the same thing is going to happen in 5G.
"There is no doubt this will be the cheapest 5G market," the tech icon said.
Gates felt that the India model can also be replicated in other countries provided they bring up their public infrastructure.
India and Singapore last week linked the digital payment systems and that "is a very worthwhile goal".
"If we can reduce the overhead on remittence payment even just by a few per cent that is a gigantic amount of money," he said.
India and Singapore on earlier this month linked the Unified Payment Interface (UPI) network with Singapore's PayNow.
The UPI-PayNow linkage will enable users of the two fast payment systems in either country to make convenient, safe, instant, and cost-effective cross-border funds transfers using their respective mobile apps.
Gates said that the beauty of digital systems is that for researchers it allows unlocking of information on who is using the system but at an aggregate level and in ways that do not compromise the privacy.
"The ability to have continuous improvement to understand...Is it easy to use, does it work well in different verticals...there is far more to be done on that, including things like innovation centres that allow for that quick experimentation," he said.
Gates said that India will have to streamline the justice system and added "if there is any delay...that is a barrier to business investments".
Gates referred to the mobile infrastructure space saying there had been "wild competition with winners and losers" and while that was a difficult thing, the government did not pick a particular company.
"In the end, the users were beneficiaries," he observed.
Telecom and IT minister Ashwini Vaishnaw termed 2023 as a landmark year, and said the digital technology has come of age.
Artificial intelligence, 5G and quantum computing have matured to become mainstream technology.
India has created unique framework for digital economy, that focuses on making a difference in people's lives, the minister said.
"The uniqueness of India's digital public infrastructure is that unlike many geographies where digital technology was concentrated with big tech companies, India has a public private partnership model where every stakeholder has an important role, Vaishnaw said.
He outlined India's key initiatives such as Aadhaar, UPI, CoWin, and now the indigenous 4G/5G stack.
He said India has made it a policy objective that benefits of digital technology should reach all sections of society.
The minister asserted that India is happy to share its technology for the benefit of the world.