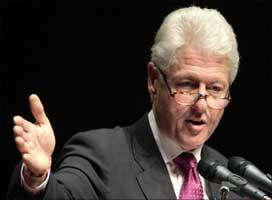 William Jefferson 'Bill' Clinton, founder of the William J Clinton Foundation and 42nd President of the United States, will speak at the Seventh  Annual PanIIT Global Conference 2009 to be held in Chicago from October 9-11, 2009 on the theme of "Entrepreneurship and Innovation in a Global Economy."
He will speak to attendees about innovative ways to address challenges and opportunities in the critical areas of education, energy and climate change, and public health, with a focus on transforming ideas into action.
The conference theme is aligned with the goals of the William J Clinton Foundation and the Clinton Global Initiative in bringing together a community of global leaders and private citizens in identifying and implementing innovative solutions for the world's most pressing challenges.
The high profile attendees at the conference, including academics, executives and professionals from leading institutions and corporations, are in a position to have a real impact in these critical areas.
Besides Clinton, the other speakers at the event include Aneesh Chopra, chief technology office of the US; Meera Shankar, Indian ambassador to the US; James W Owens, hairman and CEO of Caterpillar Inc; Sharon M Oster, dean and Frederic D Wolfe professor of management and entrepreneurship at the Yale School of Management; Sam Pitroda, chairman of India's National Knowledge Commission; Tulsi Tanti, chairman of Suzlon Energy; Carl Shramm, president and CEO of the Kauffman Foundation, the world's largest foundation devoted to entrepreneurship; and Raghuram G Rajan, Eric J Gleacher Distinguished Service professor of finance at the University of Chicago and former chief economist of the International Monetary Fund.