In power starved Bihar, district authority of the state's only industrial town Begusarai has cautioned the state government that the law and order situation could deteriorate if power supply was not improved soon.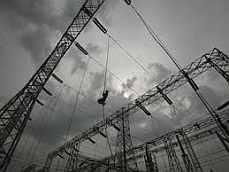 Sensing trouble due to increasing anger of people over acute power shortage, Begusarai district magistrate Jitendra Srivastava has informed the Bihar State Electricity Board chairman about the growing apprehension of a mass agitation by the aggrieved people.

Srivastava in his message to the BSEB stressed that people are facing the worst ever power crisis in Begusarai for last one month.

He has informed the state government that people's patience is fast wearing thin because of an acute power shortage. "Tension runs high in and around the town and it will result in a mass agitation any time," Srivastava said in the message to the BSEB.

According to him, Begisarai town is getting power for merely four to six hours per day in phases with extremely low voltage. But situation is worst in other parts of the district where people are getting power for two to three hours a day.

He has also requested the BSEB to delink Begusarai from the state's routine load shedding rosters with special arrangements for power supply to this
district.
Srivastava supported local people's demand for an uninterrupted power supply to Begusarai direct from Barauni Thermal Power Stations which, is situated in the district.
People are not only angry in Begusarai for power crisis, the situation is similar in several districts, as people in Bhagalpur, Muzaffarpur, Patna, Gaya and Jehanabad, Nawada took to the streets to protest in recent days.
Even people in some parts of Patna have staged protest against power shortage.
With the mercury soaring and scarcity of drinking water reported from across the state, the shortage of electricity has added to the people's woes.
In fact, millions of people in Bihar's towns and districts are facing 'powerless' summer these days.
The Bihar State Electricity Board (BSEB) blames the summer for it. It says power cuts are being imposed across the state since the demand for electricity is more than its supply.
While Bihar's daily power requirement is between 2,500 and 3,000 MW, the state produces merely 100 MW, said a BSEB official. The central government supplies 1,100-1,200 MW power to the state.
'But there is still a deficit of over 1,200 MW,' the official said.
Interestingly, BSEB spokesperson HR Pandey said that the state government was purchasing 500 MW of additional power to meet the shortfall during the summer.