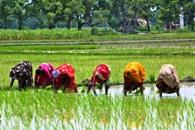 The Bihar government which would implement a new industrial policy from July 1, will not help industry in acquiring fertile land or any crop land.
"We will not acquire even a single crop land. We want industry, but not at the cost of agriculture," Bihar deputy chief minister Sushil Modi said.
Modi said state did not wish to acquire land against the wishes of the farmers.
Bihar, which has attracted Rs 2,000 crore (Rs 20 billion) investments so far, was facing a huge scarcity of power, Modi said.
He added there were 56 proposals for power projects.  Modi further said to bring greater transparency, the state has asked its four lakh officers and clerks to declare their assets.
The Centre has not yet responded to the proposal for a dry dock at Paradip, he added.