High-value land deals are back in the country's commercial capital after an 18-month break. The first two-and-a half months of this year have already seen developers, with more cash at their disposal from rising home sales, close half-a-dozen deals worth Rs 4,000 crore (Rs 40 billion).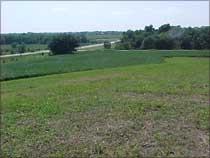 Three large property deals have already been finalised this year in Mumbai. The largest among these is the bid to develop a 250-acre plot in Kharghar (Navi Mumbai) for Rs 1,530 crore (Rs 15.3 billion). The deal was won by a consortium of Bhushan Steel and Subhash Chandra's Essel Group from the City and Industrial Development Corporation of Maharashtra.
This is the biggest land deal in Mumbai for the past 18 months.
Soon after came a Rs 571 crore (Rs 5.71 billion) deal by the Wadhwa group to buy 18.18 acres in the Ghatkopar suburbs from Hindustan Composite, and Sheth Developers bought Golden Tobacco Company's property in Vile Parle for Rs 591 crore (Rs 5.91 billion).
More mega-deals are expected. For instance, sources said Jet Airways, which bought land in the Bandra Kurla Complex, for Rs 826 crore (Rs 8.26 billion) around two years ago, is close to signing a deal to sell the land in a joint development project.
Despite facing setbacks in land auctions in 2009, government agencies like the Railway Land Authority, National Textile Corporation and Mumbai Metropolitan Region Development Authority are planning to auction their land this year again.
Leading the pack is RLDA, which managed to sell only one plot last year due to the property slowdown. In the next financial year starting April, the authority is planning to raise around Rs 4,500 crore (Rs 45 billion) from selling 25 sites covering 172 acres.
New ground breakers
Buyer
Seller
Amount
(Rs cr)
Land size
(acres)
Area
Bhushan-
Essel Group
Cidco
1,530.0
250.0
Navi 
Mumbai
Sheth 
Developers
Golden 
Tobacco
591.0
N A 
Vile 
Parle
Wadhwa 
group
Hindustan 
Composites
571.0
18.8
Ghat-
kopar
Source: Company announcements
"Overall participation from developers has also improved,'' confirmed P D Sharma, member, planning and infrastructure, RLDA, the nodal agency for developing surplus land of Indian Railways.
He said RLDA received 20 requests for qualification from well-known developers for its Sarai Rohilla plot and 14 expressions of interest for the Bandra land. RLDA is having to re-auction the Sarai Rohilla plot because the previous winner could not pay the bid money.
Though NTC's last attempt to sell its Finlay Mill in Mumbai to the Lodha group is yet to materialise, it is planning to sell two or three more defunct Mumbai mills to developers.
Bolstering the upsurge in demand for commercial land is the rise in home sales. After a 25 to 30 per cent drop from their peak, home prices have gone up 15 to 20 per cent in the last nine months as demand returned to the residential market.
"Finished product (home) sales have gone up. As a result, developers are willing to pay higher prices and buy land now. They would not have paid such prices a year ago when home sales were low,'' said Anuj Puri, chairman of global property consultant Jones Lang LaSalle Meghraj.
"Developers' liquidity positions are certainly better now than a year-and-a-half ago. We are seeing a lot of non-banking finance companies and mutual funds lending money to developers now,'' added Parry Singh, managing director of Red Fort Capital, an India-focused realty fund.
Most land buyers in Mumbai are planning to build premium residential apartments to make the most of their expensive investments.
"Today an average product does not sell. Only good products by good developers sell. A lot of developers are stuck with title issues, poor sales and so on,'' said Vijay Wadhwa, promoter of Wadhwa group.
Wadhwa has already pre-sold 0.5 million square feet out of 1.6 million sq ft of built-up space in the Ghatkopar residential project and Sheth Developers is planning premium residential apartments on its newly acquired land.
DLF, the country's largest developer, recently changed its plans to build an office-cum-retail complex into a high-end residential complex in Lower Parel because commercial rents have fallen sharply. DLF bought the 17-acre Mumbai Textile Mill land from NTC for Rs 702 crore (Rs 7.02 billion) in 2005.
Puri says developers' interest and ability to pay have also improved because the floor space index, the amount of construction permitted on a given plot of land, is increasing in Mumbai. Though the base FSI is 1.33 in the Mumbai suburbs, re-development projects on defunct mill lands, slums and so on get a higher FSI.
This time, however, the revival in land deals is marked by caution. This was evident at the MMRDA's recent land auction when none of the developers turned up because the agency's quoted price of Rs 300,000 a square metre was considered too high.
"Though markets have revived, deals are being closed only at reasonable levels. There is money to be made but developers have realised that they need to be cautious,'' said Red Fort's Singh.
Developers such as Wadhwa group who bought expensive land parcels, say they are focusing on executing their current projects than buying new land.
Private equity funds are also equally cautious. "Though we are looking at property deals actively, we are focusing on those in which risks have been taken out and proper approvals are in place,'' Red Fort's Singh added.